This Dublin juice startup has been busy winning over people in high places
Food bigwigs such as Kellogg's former European boss are backing SiSú.
AUSTIN MCGINLEY HASN'T been in the startup scene for long, but there are two things he learned very quickly: you need a lot of luck and some good friends.
Late last year McGinley joined SiSú, an early-stage food startup selling cold-pressed juices, as sales and marketing director – and also took a stake in the firm.
The Dublin-based startup was founded two years ago by nutritionists Fiona and Brian McGann, the latter of whom was founding partner of financial consulting firm Focus Capital Partners as well as BDO's Irish arm.
McGinley says that McGann approached him to join the project when it was still at a very early stage and it has been a steep learning curve.
"You need to have some friends in the industry and you definitely need luck because it's so competitive," he tells Fora.
The company has already signed deals with wholesale food supplier Pallas Foods and BWG, the brand behind Spar in Ireland, since it launched less than two years ago.
But the product needs to be on more shelves in Ireland and abroad, according to McGinley, so the firm went looking for more influential backers in a €400,000 funding round.
Former Kellogg's Europe boss Stephen Twaddell, who has invested in the brewer behind Wicklow Wolf, has put money into the business, while La Rousse Foods co-founder Marc Amand, who sold his business to Aryzta for €20 million in 2015, also invested in SiSú.
Other investors include BWG Group board member John Clohisey and an investment vehicle linked to angel investor Brian Clune.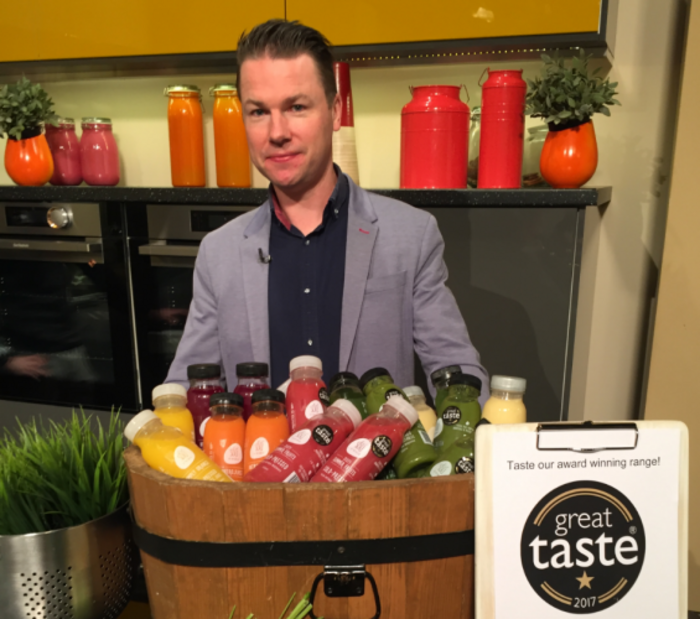 Source: SiSú
European drive
SiSú is currently based out of the Guinness Enterprise Centre in Dublin 8 and has five staff on its books.
McGinley says the funding will be used to get SiSú juices into all corners of Ireland and nearby markets in Europe.
"We sell several thousand bottles each week, which people in the industry say is good. But we want to be a nationwide brand sitting on the shelves."
But he adds that, as a person new to the food startup scene, he has learned that the process of growing a company can be frustratingly slow at times.
"You build your business and make predictions, but sometimes your forecasts can be slower than expected.
"I suppose, when you have an award-winning product, (you think) why isn't everyone talking about us and why isn't everyone consuming it? Why hasn't everyone from Belfast right down to Kerry enquired to get it in?"
Getting a foothold
SiSú's range of juices are in around 200 locations such as food market Fresh, Spar stores and a number of coffee shops, according to McGinley.
He says it has been a tough task to stand out on the shelves in the likes of Spar when competing with big players like Innocent, which is owned by Coca-Cola.
So far, the startup has tried to make an impression through investment in cementing its retail presence.
"The tip would be to invest in your shelf presence because ultimately that's where 80% of the decisions are made and make sure you look as good as possible.
"We looked at the market and decided we would invest in 'click trays' which are the little green trays that our products always sit in on the shelves.
"That gives us a home beside the more established brands and it also means those brands, hopefully, won't put their products in our click trays."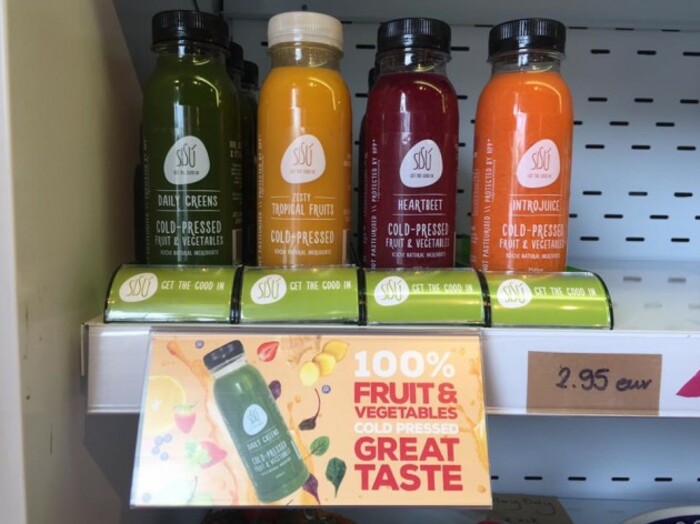 Source: SiSú
New products
Cold-pressed juices are only the first in a line of products SiSú is looking to bring to market, McGinley adds.
But he says the startup wants to nail down its current brand before it ventures into new products.
"We're at the forefront of a new category which is cold-pressed, which are juice products that aren't pastuerised or heated in production.
"In the US, Canada and Australia, it's already well-established for 10 years for juice, but it's not here. It's a technique that has been around in olive oil production and even when you think about making wine and putting grapes into a barrel, but not juices.
"What's really important now are the relationships we build in the industry. Once you can strike up great relationships, like we have with Pallas Foods and BWG, that's what will really open the doors to more retailers."
This article is part of a weekly series featuring Ireland's most promising startups. If you would like to see your company featured email news@fora.ie.