Despite threats to cut services, Ryanair will run more winter routes than any airline worldwide
Just months ago, the carrier said it might reduce its seasonal flights from Dublin amid industrial unrest.
RYANAIR WILL OPERATE more winter routes this season than any other airline in the world, new figures suggest.
Data compiled by flight analytics provider OAG for British aviation journal Anna.aero show that the low-cost carrier will service over 1,380 routes in the seven-day period starting 8 January 2019. That's 142 more than roughly the same block in 2019.
The journal chose these dates because they capture flights that will run during the busy European ski season. They also fall outside the Christmas and New Year holidays when airlines adjust their capacity.
It's worth noting that some airlines haven't yet released their full winter schedules, which is acknowledged in Anna.aero's report. The data only accounts for direct, non-stop services.
Top five
According to the data, five of the 15 airlines operating the most routes this winter season are based in Europe, a market dominated by low-cost airlines. Another five carriers are based in North America, four are in China and one is South America-headquartered.
Dublin-based Ryanair comfortably tops the league, operating 360 more routes than American Airlines, which came in second place with 1,024 services for the period examined.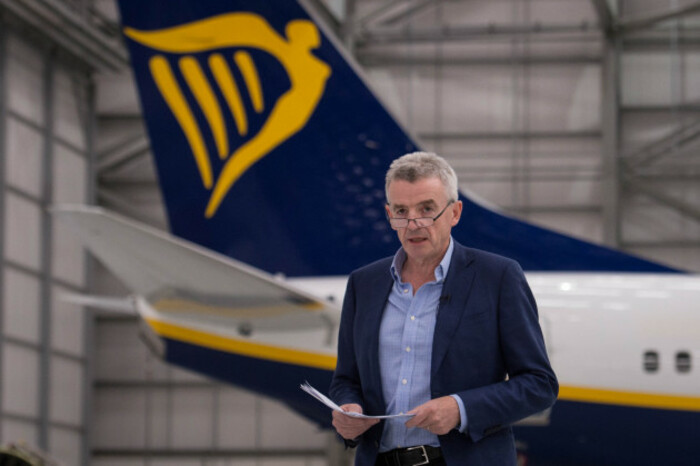 Source: Stefan Rousseau/PA Archive/PA Images
Delta Air Lines is operating 911 routes, three fewer than the same week-long period in winter 2017-2018, while United Airlines has made no change with its 903 services.
Southwest Airlines, the American low-cost carrier that inspired Ryanair's cost-cutting business model, will operate 720 routes, 39 more than the previous period.
The Irish airline's low-cost rival, Easyjet, placed sixth in the league with 690 routes, an increase of 80, while Norwegian – which Ryanair chief Michael O'Leary has frequently attacked – will operate an extra 15 services that week, for 311 in total.
Threats
Just a few months ago, when it was in the throws of its negotiations with the Irish Air Line Pilots' Association (Ialpa), Ryanair threatened to reduce the size of its Dublin-based fleet for winter 2018-2019.
It has since rowed back on the plans after reaching an agreement with Fórsa union officials acting on behalf of Ialpa-member pilots.
Ryanair agreed to recognise unions at the end of last year and has been engaged in numerous battles with worker representative groups ever since.
Michael O'Leary recently said that repeated strike action in some of the company's main markets have spooked passengers from buying tickets in the build up to the busy October school holidays and Christmas period.
Despite the disruption to services, the airline is still expected to deliver a full-year profit of between €1.1 billion and €1.2 billion, albeit 12% shy of its previous prediction.
Sign up to our newsletter to receive a regular digest of Fora's top articles delivered to your inbox.