Ryanair says no to on-board Wi-Fi, transatlantic routes - and flights from Waterford
The airline's communications chief said he is still asked when it will return to the troubled airport.
RYANAIR WILL NEVER again fly from Waterford's near-defunct airport because the runway is too short and "the motorway to Dublin is too good".
That is according to Robin Kiely, the airline's communications chief, who fielded a series of questions from the public at the Holiday World Show in Dublin's RDS.
Kiely said he is still regularly asked whether Ryanair would consider returning to its roots in Waterford, where the airline started flights more than 30 years ago.
The late Tony Ryan commenced a daily Waterford to Gatwick service in 1985 using a 15-seat Embraer turboprop aircraft. It was the airport's first international, scheduled service and would launch what became one of Ireland's most successful companies.
Today, Waterford's runway is too short to cater for Ryanair's much larger Boeing 737 jets.
The airport hasn't had scheduled commercial services since June 2016 when bankrupt Belgian airline VLM pulled its flights to Luton. It is still used by private pilots and a coastguard helicopter.
Despite having no income, Waterford Airport received a €1 million state grant to cover security and operational costs this year.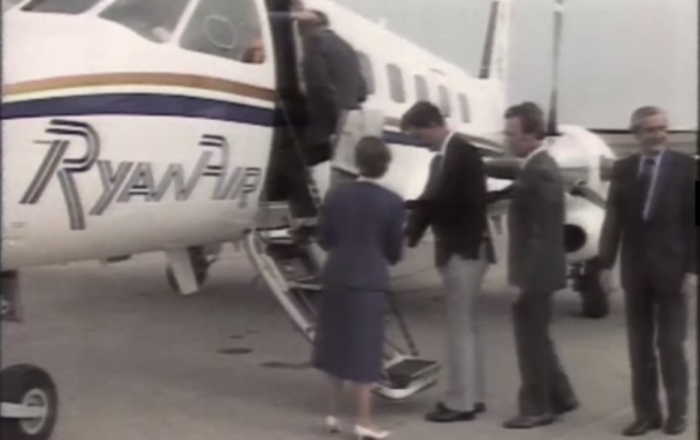 Wi-Fi
When asked by another punter if Ryanair would be introducing on-board Wi-Fi any time soon, Kiely said: "Only if you're willing to pay for it."
He added that current technology is not cost-effective because the weight of the required satellite would increase the fuel bill.
The airline's head of development, David O'Callaghan, previously told Fora the airline had been "talking with people" about on-board Wi-Fi and it could happen when prices dropped "over the next year or two".
Kiely also dismissed the much-heralded Ryanair transatlantic flights – which boss Michael O'Leary first flagged a decade ago – as "at least four to five years away".
"There's so much capacity still left in Europe," he said, noting that many legacy carriers have pulled back on short-haul because of competition from low-cost airlines.
He said that Ryanair would have to "go big" to start flights to North America, buying up to 50 large aircraft, the kind usually snapped up by Gulf carriers like Etihad, and operating across 12 or 15 cities to make it feasible.
"We have more of Europe to conquer before we conquer the world," he said.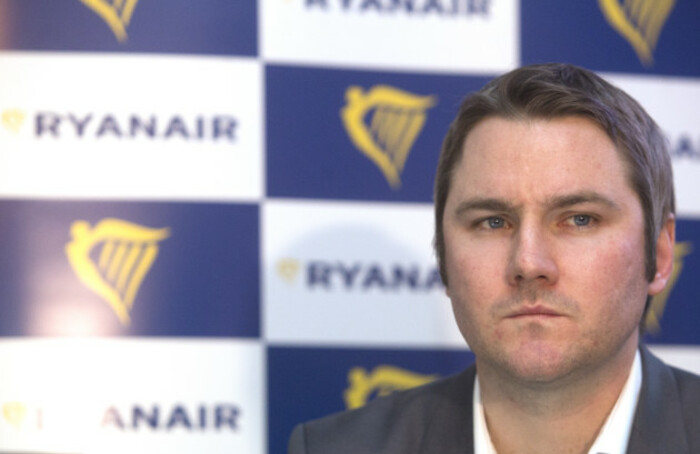 Source: Photocall Ireland
DAA spat
Last week, O'Leary took a swipe at Dublin Airport operator DAA for a forecast reduction in passengers on the airline's Irish routes.
The Ryanair chief said this was because the airline no longer qualified for Dublin Airport's growth incentive scheme – despite delivering years of increases – which meant its airport fees would increase. DAA told Fora there had been no increase in airport charges for 2017.
Speaking at the travel show, Kiely said hoped DAA would "see sense" and offer it growth incentives again.
He also welcomed the Commission for Aviation Regulation's decision to postpone major increases in passenger charges until Dublin's new runway is built in 2020. Airlines are due to be charged an extra 59c per passenger to cover the cost the €320 million development.
When asked what those higher passenger charges would mean for Ryanair's future at Dublin Airport, Kiely echoed his boss's words and said: "Our biggest driver is to get the cost of air travel down for everybody.
"If an airport just becomes more expensive, instead of bumping up the fares, we'll move our capacity elsewhere because there's demand from so many countries for Ryanair flights."
Kiely separately denied that Ryanair had decided to pull its Dublin to Oslo route because of competition from fellow budget carrier Norwegian Air Shuttle – instead blaming that move on higher charges.
"The Norwegian government, in their wisdom, decided to bring in an environmental tax and charge €8 for every passenger that was taking off from Norway," he said. "As a result of that, we closed our base in Oslo Rygge."
Asked where he saw the biggest growth opportunity, he said that Italy was performing well and Ryanair would base 10 aircraft there.
"Tourism across Spain, Greece, Italy, Portugal has risen massively," he said, mainly because tourists are avoiding Turkey and north Africa because of safety concerns.
read more on