Ryanair will have in-air Wi-Fi 'in the next year or two' - and that's only the start of its tech plans
The airline's head of development says the company missed many opportunities during years of 'IT neglect'.
RYANAIR IS KNOWN for bold statements and earlier this year its chief executive made one its biggest claims to date – its travel app will be more important to the business than selling flights within a decade.
That's according to the gospel of Michael O'Leary, who sees a future in which Ryanair will make most of its money through add-on services in its MyRyanair app.
Earlier this week, the company began using its Irish customers as guinea pigs when it introduced mandatory access to the MyRyanair portal for all bookings. It plans to roll out the measure in other countries if the approach works here.
Introducing in-flight Wi-Fi is one of the next big changes the airline is looking to put in place within the next few years.
Speaking to Fora at the UXDX conference in Dublin this week, Ryanair head of development David O'Callaghan said that introducing Wi-Fi on its planes is a bit costly at the moment, but it is something the airline is eyeing up for the near future.
"We are talking with people about Wi-Fi on board and I think it is eventually going to come in. At the moment, I think it's like when flat screens first came out, they were very expensive at the start," he said.
"Some of the figures we are getting quoted with Wi-Fi are outrageous, but it is definitely going to come over the next year or two."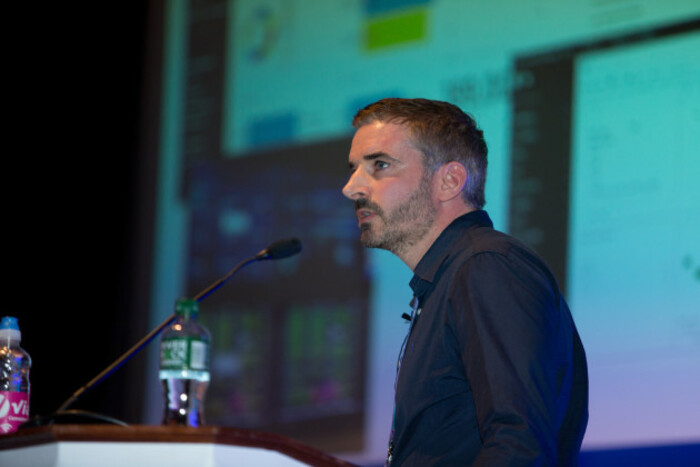 Source: UXDX
He added that Wi-Fi on planes will also open up whole new avenues for the airline to start realising its ambition to be the 'Amazon of air travel'.
"Wi-Fi on board opens a whole new avenue for innovation, whether it is buying your duty free or pre-ordering your meals on board through your smart device.
"Linking that in with the cabin crews' devices, they will know who is sitting where, is that a repeat customer, what did they buy the last time, what would they be interested this time. Again, it is all about data and building that up to improve customer experience."
Another in-app feature on the way will allow people who are late to catch their flight to use the MyRyanair app to buy 'fast-track' so they can move through security quicker.
Improving its image
The company has also launched a tech centre called Ryanair Labs, which has taken on 40 developers, and this year announced plans to move into the accommodation market through 'Ryanair Rooms'.
O'Callaghan said the company isn't looking to shed its image as a low-fare airline, this new digital approach is all about making everything more useful for customers.
"We've always focused on the low fares and there is only going to be a certain amount of people motivated by that, but there is always extra people motivated by other things like customer service and satisfaction.
"That's what we're trying to focus in on now. Why not improve the product in order to become more useful and likeable in the future?"
When the broadband era first kicked off around the year 2000, Ryanair was streets ahead of its competition when it got two 17-year-olds to design the company's first website. Within three months the website was taking 50,000 bookings a week.
[embed id="embed_2"]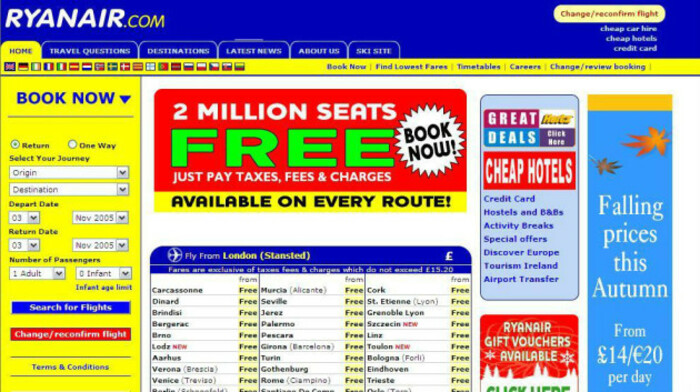 Source: Ryanair
Despite starting out well, Ryanair earned a reputation over the years for having a complicated website that tried to trick customers into paying for unwanted additional services.
O'Callaghan said it is hard to put a timeframe on how long it will take the airline to shed this image and it will likely be different in every country depending on how long the company has been active in the market.
The next Airbnb
He added that during the years of 'IT neglect', Ryanair missed out on a lot of opportunities that cropped up in travel tech, typified by sites like Airbnb and Booking.com.
However, O'Callaghan said the company is now in a better position now to take advantage of the next big changes in travel.
"We have 1.5 million unique visitors to our website per day. So if someone is going to book their holiday, they generally would go onto our website, try to find a low fare and plan from there. That is their first point of contact to plan their holiday. So that is a market in itself.
"If you look at our strategy with big data, the information that is coming from MyRyanair is very powerful in that if you think about it, if we know that someone is travelling to Barcelona next week and are bringing golf clubs, that is an opportunity to upsell them or give them something else."
read more on