Ryanair is putting €1.5m into Trinity College's new 'professor of entrepreneurship'
The donation comes as Ireland's top business schools are planning major expansions.
BUDGET AIRLINE RYANAIR is pumping €1.5 million into Trinity College Dublin's business school to fund the university's new professor of entrepreneurship.
Trinity is looking for a 'renowned researcher' to take up the professorship role from September of this year.
The individual will be responsible for producing research on entrepreneurship as well as lecturing students at undergraduate and postgraduate level.
The recruit will also be tasked with developing Trinity Business School's 'executive education' programme, a suite of degrees aimed at people already working in business or management roles.
The €1.5 million comes from Ryanair's charity foundation, and the funding will be spread out over five years.
The carrier's chief financial officer, Neil Sorahan, said the new professor will "ensure that the next generation of  business leaders are equipped with the knowledge and skills required to foster future success".
Ryanair CEO Michael O'Leary is a graduate of the college's business, economic and social studies (BESS) course – previously known as the BES course.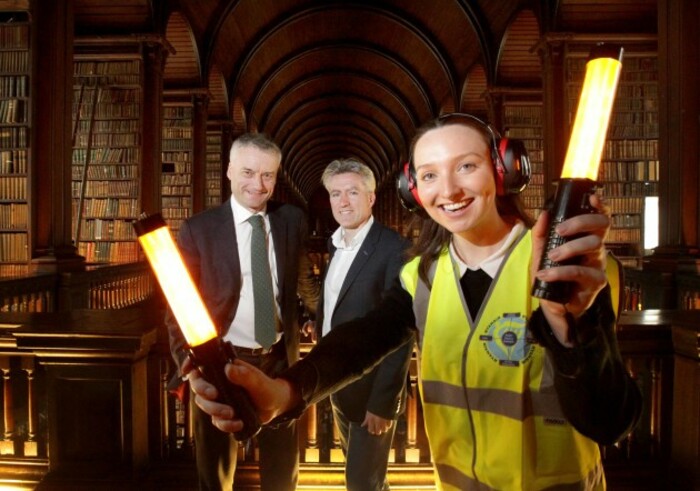 Source: Mark Stedman
Business education
The news comes at a time when universities and colleges around Ireland are pumping tens of millions into their business schools.
Trinity Business School is investing €80 million into a new six-storey building on the Pearse Street of its campus. It is expected to open in 2018 and will feature a 600-seat auditorium, 140-seat lecture hall, student apartments and a large cafe.
Last year, UCD's College of Business announced that it was spending €65 million over the next five years in a bid to push itself up the Financial Times' top-50 business schools rankings.
Those funds are being used to expand the college's faculty and develop new buildings. A portion of it has been earmarked for scholarships to attract "the very best students from Ireland and overseas".
Meanwhile, earlier this year Fora revealed that University College Cork (UCC) would be spending €100 million on a major expansion of its business school.
UCC received permission to turn the historic former Cork Savings Bank into the premises for its expanded business school. It plans to bring in more than 1,000 additional business students to the facility in the next few years.
Sign up to our newsletter to receive a regular digest of Fora's top articles delivered to your inbox.
read more on