Europe's turbulent skies have proved a boon for Ryanair and its sisters
Thomas Cook's collapse created 'significant opportunities' for Austrian brand Lauda.
EUROPE'S TURBULENT AVIATION market has presented "enormous" opportunities for Ryanair and its sister airlines, according to group CEO Michael O'Leary.
In a video presentation accompanying the company's results for the first half of the financial year, O'Leary said cutbacks and collapses at rival carriers has proven a boon for the Dublin-based outfit.
He said numerous airports have approached Ryanair "seeking our growth at a time when their existing customer base, whether it's a Norwegian or Eurowings, is actually cutting or closing bases".
As previously explained by Fora, analysts have long suggested that the continent's air travel market is due to experience increased consolidation – this morning, IAG, which owns Aer Lingus, British Airways, Iberia and Vueling, announced a billion-euro takeover of Spanish carrier Air Europa.
O'Leary said the sudden collapse of travel firm Thomas Cook – which entered liquidation in September, leaving 150,000 customers stranded – has created "significant opportunities" for Lauda, Ryanair's Austrian brand.
"There was suddenly a widespread availability of second-hand A320s and, more importantly, an availability of A320 pilots and cabin crew," O'Leary said, referring to the aircraft type operated by Lauda.
Although Lauda's losses will be higher than expected due to overcapacity in Austria and Germany, O'Leary said the airline's Viennese base will grow from eight aircraft in summer 2019 to 18 next year, "making Lauda head and shoulders the second largest airline in Vienna".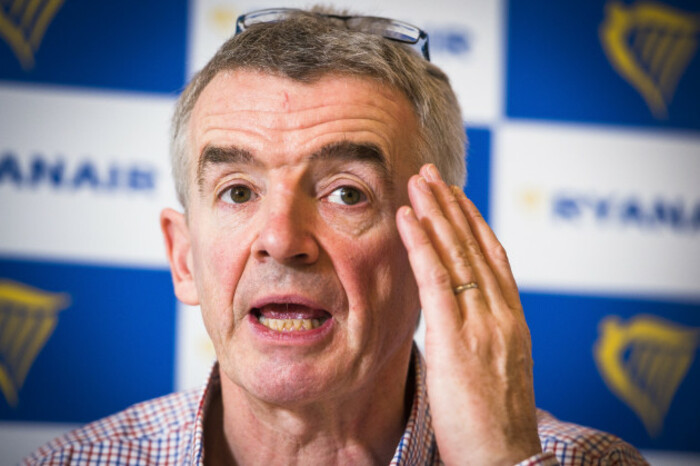 Source: Laurie Dieffembacq/Zuma Press/PA Images
O'Leary added that the group structure – which consists of Lauda, Ryanair DAC, Poland-based Buzz, Malta Air and a UK subsidiary – has allowed Ryanair to "move quickly when our customers are in distress".
"In all cases, we're doing it on the back of growth incentive agreements from airports who are desperate to win or attract growth from the Ryanair group of airlines," he said.
Ryanair Holdings reported a net profit of €1.15 billion for the six months to the end of September on the back of revenues of €5.39 billion.
Throughout the first half of its financial year, the group carried 85.7 million passengers, up 11% year-on-year.
The company narrowed its full-year profit expectations from between €750 million and €950 million to between €800 million and €900 million.
Ryanair also warned there could be further delays to the delivery of its first Boeing 737 Max planes. The global fleet has been grounded for several months following two fatal crashes at Lion Air and Ethiopian Airlines.
The company expects to receive 20 Boeing 737 Max-200 planes by next summer. It had initially expected to receive 58 and this was later downgraded in July to 30 aircraft.
Get our Daily Briefing with the morning's most important headlines for innovative Irish businesses.