What the demise of Thomas Cook means for its main competitor
Some analysts think German rival Tui could pick up some of the UK company's revenues.
THE COLLAPSE OF UK travel company Thomas Cook this week provides a big opportunity for one its biggest rivals, analysts say.
The British company entered liquidation yesterday morning after 178 years of trading, leaving 150,000 customers stranded around the globe. 
Westminster has set up a "shadow airline" for two weeks to get Britons home, though it's not yet known how much it will pay for these repatriation services. In October 2017 when Monarch Airlines went under - leaving 85,000 customers stranded - £60 million was spent to fly people home.
In March of this year, Thomas Cook, which employs 22,000 people and operates across 16 countries – it exited Ireland in 2014 – reported £1.5 billion losses for the previous six months.
The firm had faced a tough two decades trying to adapt to changes in the travel trade that has seen competition amplified by an onslaught of online companies joining the space.
In the immediate aftermath of Thomas Cook's collapse, shares in rival Tui – which has a strong presence in Ireland – rose by more than 6%. 
The German-based company was a major competitor of Thomas Cook and served many of the same markets, including the UK, Germany and the Nordic region, but it has fared better due to the fact that it operates its own hotels and cruise ships and has a strong focus on digital services.
Tui Ireland – which previously operated under separate brands Falcon Holidays and Thomson – has 11 shops across Dublin, Cork, Kilkenny, Limerick and Waterford. 
According to its most recent accounts, the Irish wing – which reports in sterling – recorded a net profit of just under £4.1 million during the 12 months to 30 September 2018, down £500,000 compared to the previous year's figure. Sales grew from £85.1 million to £95.3 million.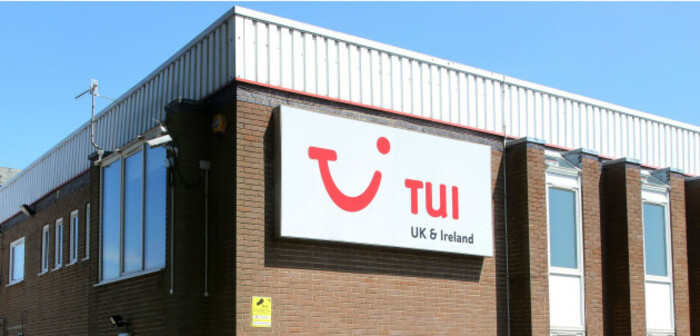 Source: Gareth Fuller
What the analysts have said
Greg Johnson, an analyst with UK-based Shore Capital, told investors this morning that Tui's earnings per share rate is "broadly unchanged since 2015″ despite a bump from its holiday services business.
That's because the company's airlines division has experienced a shortfall, which, according to Johnson, is partly to do with the ongoing global grounding of the Boeing 737 Max fleet after two fatal crashes, meaning it had to lease replacement aircraft.
The company has also had to grapple with problems affecting the wider travel industry in Europe, such as Brexit uncertainty hitting consumer confidence and an oversupply of airline seats.
Johnson said that there will "likely be some short-term repatriation costs associated with the Thomas Cook liquidation" – some Tui customers were booked on Thomas Cook flights, which also means the company will lose revenue on holidays that will have to be cancelled over the coming weeks.
But there is still £10 billion worth of Thomas Cook sales up for grabs. Barclays has forecast that if Tui picked up £2 billion of lost revenue, it would be worth an extra 4% to group trading profit.
What Tui said
Tui notified the London Stock Exchange that it is "assessing the short-term impact" of Thomas Cook's insolvency.
The company said where any Tui customers were booked on Thomas Cook flights that are no longer operated, replacement flights would be offered. 
It said that its business model is "resilient, even in this challenging market environment".
The company said that its markets and airlines division is facing "external challenges" like the grounding of the 737 aircraft and Brexit uncertainty, but the summer 2019 season is closing "in line with expectations" though some challenges are "likely to persist" into 2020.
Get our Daily Briefing with the morning's most important headlines for innovative Irish businesses.