Ryanair moves closer to becoming the 'Amazon of air travel' with package-holiday bookings
The low-cost carrier launched 'Ryanair Holidays' in Ireland, the UK and Germany.
BUDGET AIRLINE RYANAIR has launched a new holiday booking service.
The low-cost carrier today announced it was partnering with Spain-based tour operator Logitravel and accommodation provider World2Meet to offer 'Ryanair Holidays' packages.
The service is available through the Ryanair website in Ireland, the UK and Germany, where the carrier is looking to aggressively expand its operations, with more markets expected to follow suit in 2017.
"Consumers have been paying too much for package holidays for years and more and more want to put their own packages together themselves," the airline's marketing chief Kenny Jacobs said.
"(Ryanair Holidays) is another significant step in our journey to becoming the Amazon of air travel."
The service will mostly chase after travellers looking for winter sun, family holidays and city breaks.
Ryanair has already mooched into Hertz and Trivago territory with a car hire and hotel booking service. Today's announcement signals another move in the carrier's bid to diversify its business model.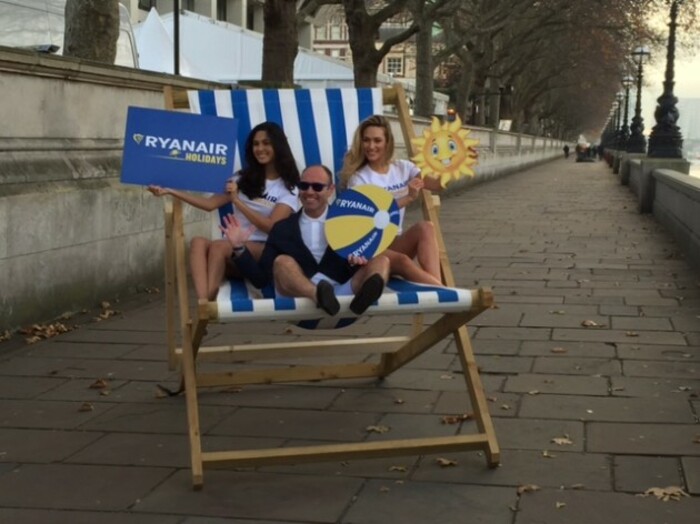 Source: Ryanair
Bigger than air fares
Earlier this year, chief executive Michael O'Leary predicted its travel app would become bigger business than selling airline fares over the next 10 years.
Although Ryanair expects to swell its passenger numbers from 100 million to 200 million over the next eight years, O'Leary suggested at the time that air fares will be a "smaller part of the business" in the future.
He said he thinks the company will make most of its money through add-ons in the 'MyRyanair' app.
"We have set this goal that at some point in the future all fares will be free (and) the bigger part of the business will be MyRyanair," he said.
"I think by about mid next year we won't allow you to make a booking on Ryanair unless you join up for the MyRyanair programme."
He said that he expects the app will make money by selling add-on services to Ryanair's passengers.
"The way we will continue to lower the cost of travel is by encouraging more people to shop. We will get them to shop on Ryanair, but only for the services that they want."
read more on