One-sixth of all Ryanair flights will be cancelled on Friday due to strikes
Germany pilots will join counterparts in Ireland and other countries in stopping work.
GERMANY'S RYANAIR PILOTS will join a wave of strikes against the no-frills carrier across Europe on Friday, escalating a row over pay and conditions at the height of the summer holiday season.
The powerful Cockpit union said Ryanair pilots would walk off the job for 24 hours.
"We are extremely sorry for the affected passengers. The responsibility lies with Ryanair management," Cockpit president Martin Locher told a press conference today.
As a result, Ryanair has said it will be cancelling 250 flights to and from Germany, bringing the total number of flights cancelled to almost 400.
The company had already axed 146 out of some 2,400 scheduled flights across Europe because of strikes planned by Irish, Belgian and Swedish pilots on Friday.
It will be the fifth strike day involving Irish pilots. Ryanair has warned hundreds of pilots and cabin crew that they may be made redundant as the airline considers cutting the size of its Dublin-based fleet in winter due to strikes.
Meanwhile, a Dutch union has said that Ryanair is seeking a court order in to prevent its pilots there joining the wave of strike action.
"The Dutch Airline Pilots Association (VNV) is surprised but also furious about this attack on the Dutch labour rights," the union said in a statement.
"Nowhere else in Europe has Ryanair started this type of lawsuits in recent months. The VNV is also surprised because we didn't announce a strike of Ryanair pilots in the Netherlands."
A court in Haarlem, near Amsterdam's Schiphol airport, is due to hear the case tomorrow.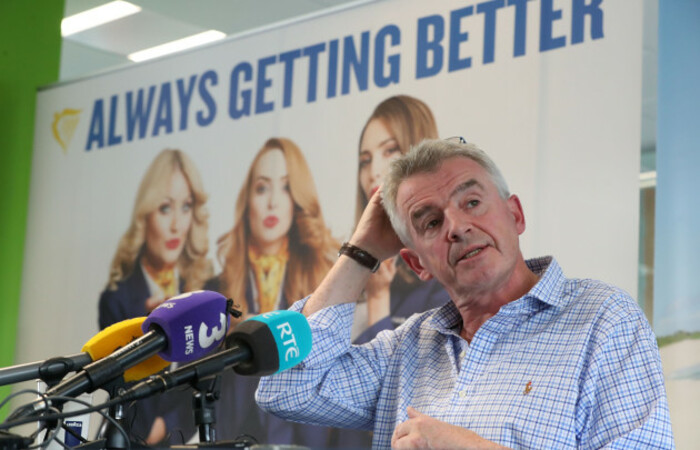 Source: Niall Carson/PA Archive/PA Images
Unrest
Europe's second-biggest airline has been grappling with staff unrest since it recognised trade unions for the first time in December 2017 in a bid to ward off strikes over the Christmas period.
The industrial action is over working conditions and how Ryanair organises transfers of its pilots between bases.
There has been much back-and-forth between the airline and Irish trade union Fórsa, with both claiming the other side has refused to meet to resolve the dispute.
Ryanair reported a slump in profits in the most recent quarter due to pilot costs, among other factors.
Reporting by Paul Hosford and AFP.
Sign up to our newsletter to receive a regular digest of Fora's top articles delivered to your inbox.