Hundreds of Ryanair workers may face job losses - unless they move to bases like Poland
The company says it may reduce the size of its fleet in the Irish capital this winter.
RYANAIR HAS WARNED more than 100 pilots and 200 cabin crew that they may be made redundant as it considers reducing the size of its Dublin-based fleet this winter.
The airline said the decision is partly due to ongoing strike action by Irish pilots and the "rapid growth" of its Polish charter airline.
It said the strikes have had a "negative effect" on last-minute, high-fare bookings as well as "forward air fares as consumer confidence in the reliability of our Irish flight schedules has been disturbed".
Announcing the decision this morning, the airline said that it has issued 90 days protective notice to employees whose services may not be required from 28 October.
Such a notice is issued in situations where employers expect to make redundancies unless there is a change in circumstances.
However the union representing Ryanair pilots, Fórsa, hit back with another day of planned strike action. The scheduled stoppage, the fourth so far, is due to take place on Friday next week.
Consultations
The airline this morning said it will "begin the consultations with its people on redundancy".
If said if redundancies are necessary, the decision will be "determined by Ryanair's assessment of flight performance, productivity, attendances, and base transfer requests".
It said it will offer transfers to Poland and possibly other bases to Dublin-based pilots and cabin crew in order to "minimise" the number of lay-offs.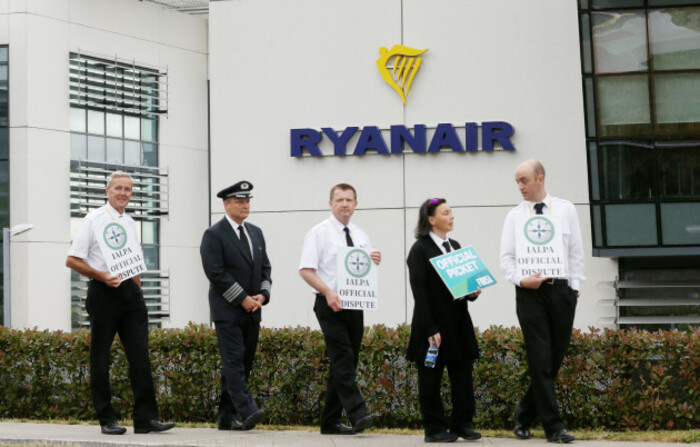 Source: Sam Boal/RollingNews.ie
Speaking about the decision, Ryanair chief operating officer Peter Bellew said the company regretted the potential reductions, but said it was operating in a market where business has weakened, partly because bookings have been damaged "by rolling strikes by Irish pilots".
"Ryanair operates a fleet of over 450 aircraft from 87 bases across Europe. We can only do so if we continue to offer low fares, reliable flight services to our customers, and if our reputation for reliability or forward bookings is affected, then base and potential job cuts such as these at Dublin are a deeply regretted consequence," he said.
Earlier this week, Ryanair warned about potential job losses as it posted financial results that showed profits had dropped by more than a fifth for the first three months of its financial year.
The carrier's profit after tax slid by 22% to €309.2 million compared to the same period last year.
Around 100 Irish pilots who are members of the Ialpa-Fórsa trade union have so far carried out three days of strike action in a dispute over Ryanair's approach to negotiating with the organisation.
Fórsa today warned strikes would continue unless the airline "negotiated in good faith" over the key issues such as base transfers for pilots.
Reporting by Stephen McDermott and Conor McMahon
Note: This article has been updated to include details of the latest pilots' strike, due to take place next week.
Sign up to our newsletter to receive a regular digest of Fora's top articles delivered to your inbox.