As its profits slump, Ryanair has warned ongoing strikes could cause job losses
The budget airliner's profits fell by more than a fifth to €309 million.
BUDGET AIRLINE RYANAIR has warned about potential job losses due to the company's ongoing strike problems as it posted financial results that showed profits dropped by more than a fifth.
During the first three months of its financial year, Ryanair's profit after tax slid by 22% to €309.2 million compared to the same period last year.
The expected decline in profits between April and June of this year was previously flagged by the airline, which blamed the slump on higher oil prices, pilot costs and the fact a large portion of the East schedule fell outside the quarter.
The earnings update has come as Ryanair faces strikes this week by some pilots and cabin crew despite group efforts in recent months to improve pay and conditions.
In a statement attached to the financial results, the airline warned that the strike actions could put jobs at risk and may cause an overhaul of its winter schedule.
"If these unnecessary strikes continue to damage customer confidence and forward prices/yields in certain country markets then we will have to review our winter schedule," the budget airline said.
"(This) may lead to fleet reductions at disrupted bases and job losses in markets where competitor employees are interfering in our negotiations with our people and their unions."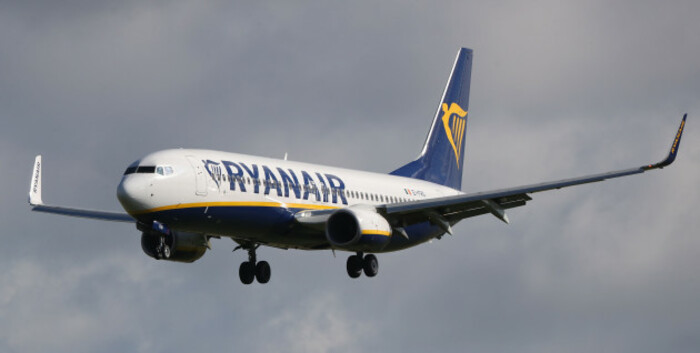 Source: Niall Carson/PA
On the ongoing industrial disputes, Ryanair said that it expects further strikes over the summer because it is "not prepared to concede to unreasonable demands".
Some of Ryanair's Ireland-based pilots will carry out a third one-day strike tomorrow, resulting in the cancellation of 16 flights.
The airline has cancelled 600 flights in Europe that were due to take place on Wednesday and Thursday, owing to strikes by cabin crew staff in Spain, Portugal and Belgium.
"Despite signing pilot and cabin crew union recognition agreements in our major markets — the UK and Italy, and a recent agreement in Germany … progress has been slower in smaller markets," Ryanair said.
"While we continue to actively engage with pilot and cabin crew unions across Europe, we expect further strikes over the peak summer period as we are not prepared to concede to unreasonable demands that will compromise either our low fares or our highly efficient model," it added.
Rising costs
Referring to its financial results for the first quarter, Ryanair outlined the increased costs that caused the decline in profits at the airline.
"Staff costs increased by 34% primarily due to pilot 20% pay increases, 9% more flight hours and a 3% general pay increase for our non-flight staff.
The Dublin-based carrier also noted that oil prices rose "substantially" from $50 per barrel at this time last year to almost $80 per barrel.
Ryanair added that its passenger traffic grew 7% to 37.6 million in its first quarter, while revenue increased by nearly a tenth to almost €2.1 billion.
Despite the dip in profits at the airline, analysts at Goodbody stockbrokers noted that the profit registered was better than expected.
"While Ryanair continues to face some tough issues, fundamentally the model is not broken, and we see this period of weakness as a buying opportunity for investors with a medium-term investment horizon," said analyst Mark Simpson.
Reporting by Killian Woods and AFP.
Sign up to our newsletter to receive a regular digest of Fora's top articles delivered to your inbox.