Dozens of Ryanair flights will be grounded Friday as pilots stage their second strike
The airline confirmed the cancellation of 24 services between Ireland and the UK.
LOW-COST CARRIER RYANAIR will cancel several flights between Ireland and the UK this Friday as it deals with a second day of strike action staged by its Dublin-based pilots.
The airline issued a statement confirming that 24 flights will be cancelled on 20 July after nearly 100 pilots who are members of the Irish Airline Pilots Association (Ialpa), part of trade union Fórsa, voted in favour of further industrial action.
Ryanair said it has contacted all customers who will be affected by this Friday's cancellations.
It said it decided to cancel "high frequency" routes to the UK to minimise disruption for holidaymakers travelling to sun destinations like Portugal, France and Spain during the busy summer travel season.
It used a similar tactic to deal with disruptions during last week's 24-hour strike, which resulted in 30 cancellations. The 94 Ialpa-Fórsa pilots are also due to strike on Tuesday, 24 July.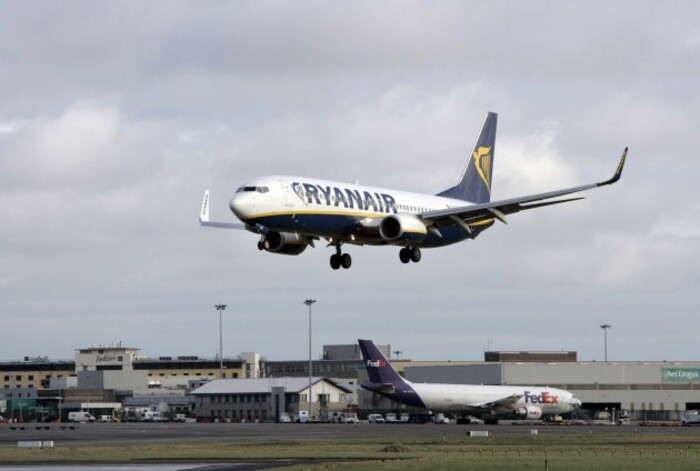 Source: Mark Stedman/Rollingnews.ie
As previously reported by Fora, Irish pilots who are members of the union overwhelmingly voted in favour of industrial action as Ryanair struggled to cut a deal with the pilots after announcing its intention to recognise trade unions in December of last year.
The union's complaints centre around management's approach to transferring pilots between its European and African bases. It is also seeking a new system to determine various issues such as the allocation of annual leave, base transfers and promotion.
The two sides previously clashed over Ryanair's reluctance to stage negotiations in a neutral location. A meeting took place last week, but failed to avert the first day of strike action.
In its statement to Irish customers, Ryanair described the second strike as "unnecessary". It said it has already provided Ialpa-Fórsa with "written proposals that address their concerns".
"We've offered to set up a working committee to explain all these issues to this small minority (of Dublin-based pilots), and asked them to postpone this strike, but they have refused," it said.
Announcing a continuation of the dispute last year, Ialpa-Fórsa said that while both parties agreed that a working group would be helpful, they could not agree on the terms of reference for such a group.
Fórsa was contacted for comment, but the union hadn't responded at the time of publishing.
[embed id="embed_3"]
Ryanair stressed that only a quarter of its more than 350 Irish pilots are members of the trade union. However, many of the non-member pilots are contractors and are classed as self-employed which poses a legal challenge for trade unions looking to recruit.
Sign up to our newsletter to receive a regular digest of Fora's top articles delivered to your inbox.