Ryanair won't cut a deal with Irish staff until 'competitor airline pilots' butt out
The low-cost airline has made 'very little progress' with trade unionists in Dublin.
RYANAIR'S HR CHIEF has said the airline will only cut a deal with Irish trade union Fórsa if "competitor airline pilots" aren't at the negotiation table.
In a memorandum seen by Fora, the company's chief people office, Eddie Wilson, wrote to Ryanair pilots last week to give them an update on the ongoing negotiations process with trade unions across Europe.
In December of last year, Ryanair made the shock decision to ditch a longstanding company policy and recogise pilot unions.
Since then, it has been in discussion with various unions throughout the continent, and signed the first union recognition agreement in January with the British Airline Pilots Association (Balpa), which represents 600 directly employed pilots in the UK.
Meanwhile, negotiations with the Irish Airline Pilots' Association (Ialpa) – which is part of trade union Fórsa and also represents Aer Lingus pilots – have been much slower to progress.
'Little progress'
In the note to staff, Eddie Wilson said the company has "made very little progress" after two meeting twice with Fórsa in December and January.
He said the union "seems unwilling to recognise Ryanair's low-fares, high-productivity model or provide assurances that there will be no involvement of competitor airline pilots in our negotiations".
Wilson said he wrote to Fórsa on 17 April to confirm that Ryanair is willing to recognise the union and negotiate a collective agreement, but that the group must "agree to negotiate for Ryanair pilots without the involvement of competitor airline pilots".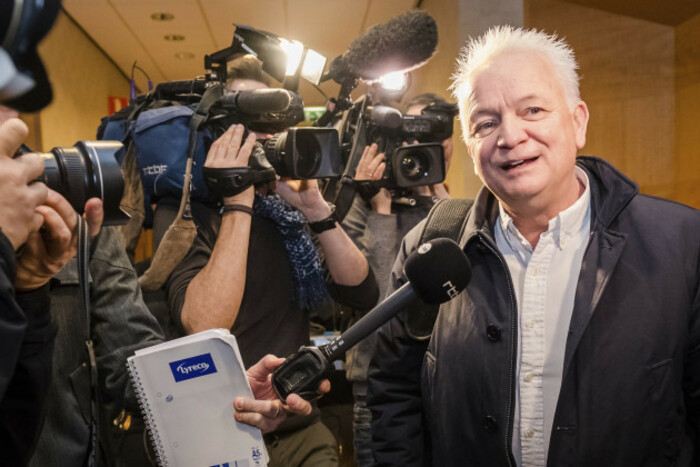 Source: Geert Vanden Wijngaert/AP/Press Association Images
Ryanair has previously clashed with both Ialpa and its president, Evan Cullen, in the past. Fora contacted both Ryanair and Fórsa-Ialpa for comment but had not received a response at the time of publication.
Elsewhere in the memorandum, Wilson added that progress in Germany had also been slow. He said pilots union VC has sent its proposals in German "which will slow up the process further".
"The next meeting is scheduled for 3 May and we have asked the VC to provide proposals in English so we can make some real progress with negotiations."
In Sweden, a meeting took place earlier this month but "unfortunately a competitor airline pilot was present so the meeting could not progress".
[embed id="embed_3"]
In Britain, where Ryanair signed an agreement with Balpa, Wilson said: "We have made good progress on a range of issues including actively negotiating a new annual leave system for UK pilots for implementation next January."
Here's how negotiations have been going in other areas:
In Italy, Ryanair signed an agreement with union ANPAC on 5 March. "Progress has been good to date," Wilson said.
The airline says it's made "good progress on a range of issues" with Spanish union SEPLA, although there are some remaining matters to discuss.
The carrier has only had one meeting with Portugese union SPAC and hopes to meet again on 1 May.
"Little progress" has been made in Belgium, although it's hoped a meeting will be arranged for the first week in May.
It has had one meeting with Netherlands union VNV and is due to meet again at the end of this month.
The airline met with French unions on 17 January and said it will talk to them again "if and when Ryanair decides to set up bases in France".
In Denmark, Ryanair met unions in February and made a similar commitment to talk again "should we make the decision to reopen a base in Denmark".
Sign up to our newsletter to receive a regular digest of Fora's top articles delivered to your inbox.