Ryanair pilots in Dublin have overwhelmingly voted for strike action
The airline has struggled to make a deal with trade union Ialpa-Fórsa.
DUBLIN-BASED RYANAIR pilots have overwhelmingly voted in favour of industrial action.
Members of the Irish Airline Pilots' Association (Ialpa) have been balloted in recent weeks on whether to launch industrial action up to and including strikes.
According to a spokesman for the union, 99% of members who cast a vote were in favour of industrial action. They will strike for 24 hours on Thursday, 12 July, commencing at 1am on that date.
Ryanair has issued a notice to customers saying that it is "disappointed" with the outcome of the ballot and that it has tried on several occasions to meet with Fórsa, of which Ialpa is a member, but to no avail.
The airline said it will communicate with passengers by email or text message if the "unnecessary strike" is still on the cards next week.
Ryanair said it has invited Fórsa to "meet to resolve these issues" at its offices near Dublin Airport the day before the scheduled strike action.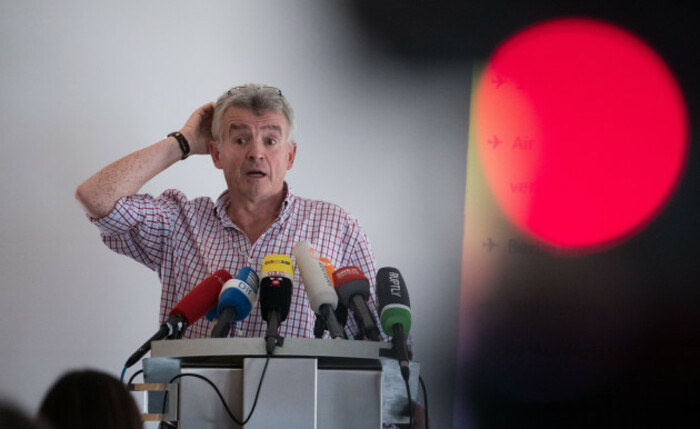 Source: Bernd von Jutrczenka/DPA/PA Images
'Little progress'
As previously reported by Fora, the airline has struggled to cut a deal with Dublin-based pilots after announcing its intention to recognise trade unions in December last year.
In a memorandum seen by this website in April, Ryanair's chief people officer, Eddie Wilson, said the company had "made very little progress" after two meetings with Ialpa, which also represents Aer Lingus pilots.
In the note to staff, Wilson said at the time that Ryanair wouldn't negotiate with Ialpa-Fórsa unless the organisation agreed to "negotiate for Ryanair pilots without the involvement of competitor airline pilots".
Ryanair has previously clashed with both Ialpa and its president, Evan Cullen, in the past.
The low-cost carrier made the shock announcement last year that it would break a longstanding company policy and recognise pilots unions in a bid to avert strikes during the busy Christmas.
Note: This article was updated to include further details of the industrial action and comment from Ryanair.
Sign up to our newsletter to receive a regular digest of Fora's top articles delivered to your inbox.