After raising millions from investors, Dublin retail tech firm Pointy is gearing up for the US
The startup plans to double its engineering and support staff.
DUBLIN STARTUP POINTY has moved into a new office space in the city and plans to double its staff following its $6 million funding round last year.
Pointy has created a hardware product that connects to retailers' barcode scanners and allows them to log every item in their store and publish the information online. This helps shoppers find physical stores nearby that have the goods they're looking for.
The product, the company says, is bridging the gap between online retailers and traditional brick and mortar stores.
The startup has set up shop in a new space on Amiens Street where it plans to have 50 to 60 staff by the end of the year in roles like engineering, tech and customer support and marketing.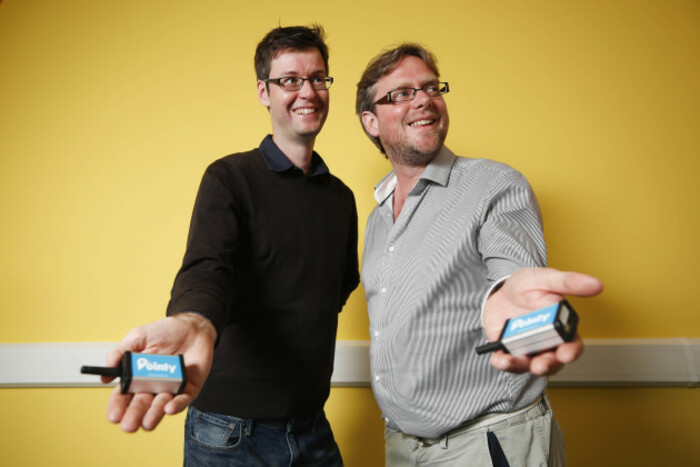 Source: Conor McCabe
It raised $6 million in venture funding last September from Frontline Ventures and US VC firms Vulcan Capital and Draper Associates. Other backers of the company include Irish rugby international Jamie Heaslip.
Pointy is now used in 825 shops in Ireland with a 14% penetration rate in Dublin, co-founder Charles Bibby told Fora. The money has been mainly invested in expanding the company's team for its international drive.
"Our focus now is on growth overseas, primarily in the US. We're in 50 states over there and we're growing at about 16-17% month to month. That money is all about growing the company," Bibby said.
It is aiming to be in 1% of US stores by the end of the year with a longer-term goal of reaching 10%. Pointy works with retailers of various sizes but the right spot is stores with five to 10 locations, Bibby added.
Retail apocalypse?
The startup's growth comes as some traditional retailers dispute the extent of the so-called "retail apocalypse" being dealt by e-commerce. Last week, the chief executive of Harvey Norman in Ireland called the narrative "fake news".
"I think it is overstated," Bibby said on the impact that e-commerce and online retail is having on shops.
According to the co-founder, the large majority of commerce in the US is still in store and shop owners' biggest mistake was trying to compete directly with e-commerce players.
"I think there's a tendency for local retail to try to chase e-commerce by doing e-commerce."
It makes more sense to use tech tools to increase footfall in store rather than sell more online, he said.
"That's really where the local retailers have their sweet spot – the experience in the shop, the knowledge."
However it's hard for Pointy to pin down just how much its tech actually leads to increased footfall and sales. People rarely come into a shop and mention to the cashier that they were led there by Pointy.
Getting "the attribution right is hard," Bibby conceded. "We do have a few retailers where we have some idea, but it's not concrete enough."
Sign up to our newsletter to receive a regular digest of Fora's top articles delivered to your inbox.