Harvey Norman's boss: The death of physical stores at the hands of online is 'fake news'
Blaine Callard accused the media and technologists of spreading 'a false narrative'.
HARVEY NORMAN'S CEO in Ireland has declared the popular narrative that online retail is killing bricks and mortar stores as "fake news".
In a fiery presentation at Retail Excellence Ireland's annual conference, Blaine Callard suggested the death of retail is "big business" for credit card companies, technology firms and media outlets, but it doesn't accurately reflect the reality of modern retailing.
"There has never been a better time than now to be in retail. We're entering some kind of retail renaissance," Callard said.
"The retail apocalypse is big business. You'd better believe it. It's used to prop up stratospheric valuations … and it makes a great headline."
Callard said Amazon's recent trillion-dollar valuation "is effectively a bet" and doesn't reflect the fact that the online retailer makes most of its money through web services and other ancillaries.
During the 30-minute diatribe, the retail boss was particularly critical of journalists and what he dubbed "time-poor technologists who never liked shopping to begin with".
"Technologists have this defiant, trendy, (Steve) Jobs-ian belief that technology will disrupt all old economy models," he said.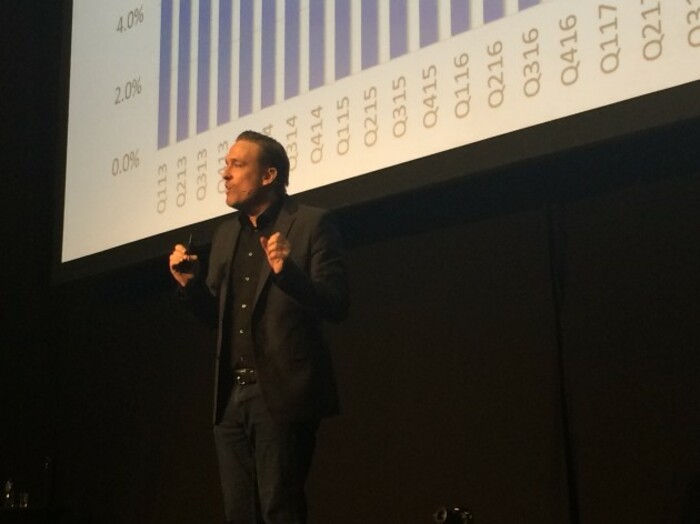 Source: Conor McMahon
Citing statistics collated by market research firm eMarketer.com, Callard said just 9% of shopping in the US occurs online – which he called a "kiddies' pool" – and that there was an increase in bricks and mortar retail sales in 2017.
He noted that six of the top 10 online retailers in America were "born from physical stores" and added that more physical stores opened than closed there last year.
Callard blamed both the Irish and American media for spreading a false narrative around online retail trumping physical stores and accused some outlets of publishing "fake news" and misinterpreted statistics.
Toys R Us
On recent high-profile store closures in the US and UK, Callard said legacy debt was more to blame for their demise than online competitors.
"Conventional wisdom is that Toys R Us was killed by online. Toys R Us is quite a complex issue, but in reality it died because of self-inflicted wounds and structural changes in the toy industry," he said.
Callard said massive deflation in the US toy industry coupled with a lack of investment in stores and staff contributed to its demise, along with debt that pre-dated the emergence of online retail.
He compared Toys R Us's collapse with the success of Irish outfit Smyths, which bought the US retailer's central European operations.
"Here in the one vertical, toys, you see some people with the same business model thriving and somebody dying. None of it is about online. All of this is about running a good business."
Callard said it's a "myth" that purely online retail is cheaper than opening a physical store: he colourfully said online-only stores are located in the "swampy swamp-swamp" called the internet.
He said the "dirty little secret" of the likes of Boohoo.com and Asos is that pure online retail incurs high costs in dealing with fraud and privacy issues, refunds and the practice of 'bracketing' – where customers buy multiples of the same clothing and return the ones that don't fit.
Callard said the narrative that online is killing off retail is also damaging the industry's ability to attract young people into the sector.
"It stigmatises the essence and legacy of retail. That's worth fighting for. We need bright young people to come into the industry. That won't happen until we re-write the narrative to say that people and stores are at the bleeding edge of disruption."
Sign up to our newsletter to receive a regular digest of Fora's top articles delivered to your inbox.