Dublin retail tech startup Pointy has raised $12m from investors to expand in the US
The company says it's focused on 'user growth and happiness' for now – rather than revenue.
DUBLIN RETAIL TECH startup Pointy has snatched $12 million in new funding to continue its expansion in the US and other markets.
The Series B investment was led by US investment firms Polaris Partners and Vulcan Capital, with participation from several other investors including Draper Associates, Audrey Capital and Seedcamp.
It brings the company's total funding to more than $19 million following a $6 million Series A round announced last September and a $1.2 million seed round in 2015.
Pointy, whose investors also include WordPress founder Matt Mullenweg and Bebo co-founder Michael Birch, has developed a small hardware box that connects to a retailer's bar code scanner to log every item in store and make the goods easy to find online.
The box and its accompanying software services are aimed at helping traditional physical retailers compete with e-commerce companies.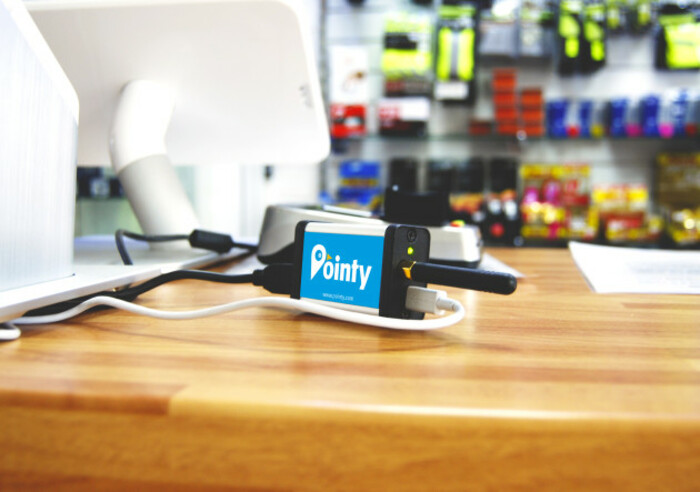 Source: Pointy
Pointy is already live with stores in Ireland, the UK, the US and Canada. While it is used in more than 800 outlets here, the US already accounts for the biggest chunk of its business with around 5,000 stores. However that's still small pickings.
"For context, that's about half a percent of US retailers," chief executive Mark Cummins told Fora. "We expect to be in more than 1% of US retailers before the end of the year."
The company has to make slight adjustments to its sales and marketing tactics in each country, but the problems faced by retailers are the same regardless of location, Cummins said.
"By and large, a bicycle store in Dublin versus one in London or Boston … they're fundamentally doing a very similar job."
The new investment will help accelerate growth in all markets, he added.
"The US retailers are probably more enthusiastic but maybe a little higher in their expectations, so they've actually been very good to work with," he said.
User growth before revenue
Pointy earns revenue through sales of the box and premium features on the software product.
It recently inked deals with major point-of-sale technology providers Square, Clover and Lightspeed to include the Pointy app on their systems. It also partnered with Google's See What's In Store feature to enable local stores to list their inventory on Google.
However revenue is not a core focus for the company right now, Cummins said.
"Our main target at the moment is just about user growth and user happiness. Those are the main KPIs we track internally. Revenue I think will be a goal maybe next year or a little bit further down the line."
Pointy launched its new Dublin office in May and it plans to employ up to 60 people at the base by the end of the year. It current has around 30 staff in Ireland.
Sign up to our newsletter to receive a regular digest of Fora's top articles delivered to your inbox.