'If you went to the bank and said you wanted to start an orchard, they'd tell you to cop on'
As part of our How My Business Works series, we profile Dan Kelly's Cider.
OLAN MCNEECE HAS spent his life in the apple business – he grew up working on his family's orchard in Drogheda and, against his father's wishes, ended up carving out a career in it.
"My father always wanted me to work outside of the business because it's a good idea to learn how to work for somebody else," he tells Fora.
"But at the time I was finishing college – it was the late 80s, early 90s – jobs were few and far between in Ireland. I kept working in the family business while I was looking for a job and I'm still here now."
Even though it was never his plan to stay on at the family's Boyne Grove Fruit Farm, McNeece argues that staying in the family business has had its advantages.
"Certain businesses almost require you to be brought up in them – it's very hard to understand or to love unless you've always worked there," he says.
"If you went to the bank manager tomorrow and said you wanted this much money to start an orchard they'd tell you to cop on to yourself. But having been brought up with it and knowing the business and the risks, it's a different story."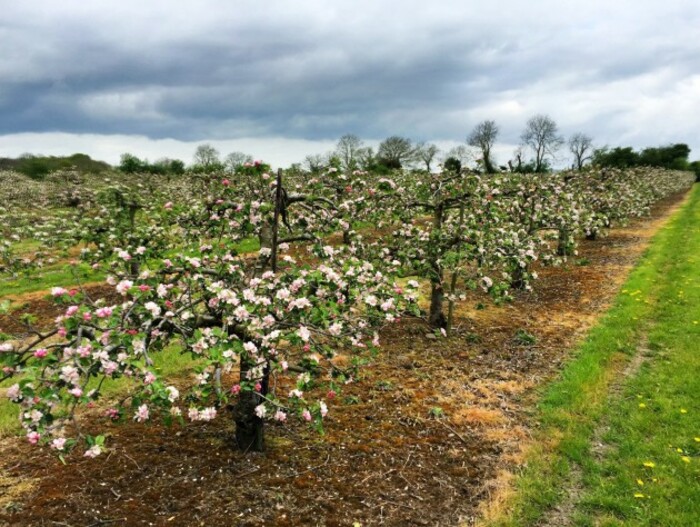 Source: Dan Kelly's Cider
Over the years, McNeece has had to shake-up the family business to secure its future.
"Our biggest variety is Bramley apples, which is a cooking apple, and unfortunately people aren't making as many apple pies as they did in the past," he says.
According to McNeece, it takes several years to introduce a new variety of apple into the orchard and allow it to become commercially viable, so he decided the company needed a new revenue stream.
Family business
Five years ago, McNeece started Dan Kelly's Cider, using apples from the family's orchard. But this wasn't the first time that he had floated the idea of rolling out a drinks business with his family.
"I had the idea over 20 years ago to go into cider, but my father didn't think it was a good plan and he shot it down.
"He wasn't a big drinker and he didn't think a chap in his early 20s like me should have an unlimited amount of alcohol around him. So he very much discouraged it. "
Looking back, however, McNeece thinks it's probably better that he made the jump now rather than in the 1990s.
"At the time the business model probably wasn't as attractive – lots of the smaller guys were all put out of business by the big cider companies. So could we have survived then? I don't know."
McNeece says the tail-end of the recession was a good time to diversify as the drinks market was changing: "Consumers were becoming more discerning about what they were buying – they wanted quality and value for money.
"We saw that change happening with the growth in the craft beer segment. We had the apples, we always made a bit of cider on the side for ourselves, so I thought, why not try it as a business?"
Source: Dan Kelly's Cider
McNally named the new cider brand after his great-grandfather who had worked for the Great Northern Railway and drove the train through the family's orchard.
"We ended up coming out with a name that I always loved – it's simple and it's Irish, without being fake. It's actually our story and our family," he says.
Family is still important to Dan Kelly's and the company's seven full-time staff includes McNeece, his father, and his brother and sister. As it's a seasonal business, the company also takes on an extra 20 to 30 people during the apple harvest.
Cider competition
McNeece says that the original orchard harvests around 10 million apples every year – about 60% of that goes to retailers, 30% to Bulmers and the smallest proportion goes into his own cider production.
He adds that it isn't strange supplying to Bulmers because the drinks giant isn't his direct competition: "We're the size of a fly on an elephant's backside in comparison."
C&C's Bulmers brand has dominated the Irish cider market for years accounting for half of all sales. However, it's position has come under fire in recent years from rivals like Heineken's Orchard Thieves and Appleman's brands, as well as the increasing number of craft brands.
"Bulmers have had it so good for so long, but now it's starting to change," McNeece says.
"There are plenty of really great Irish ciders now and everybody's doing things a bit differently. Small independents are taking more of a market share and that's fantastic."
Even though he was familiar with the apple business, McNeece says breaking into cider making was a challenge.
"I've made plenty of mistakes. Some of them have come from being too busy and trying to do too much.
"And with a new cider, you have to learn that what you like is not necessarily what the market likes. Making our cider is not exactly scientific – it's trial and error."
McNeece says that his drink is pitched to a very different consumer than the average Bulmers drinker – he says the beverage is less sweet and has a higher apple content.
He also experiments using different varieties and blends of apples to create new flavours, and he thinks that using his own apples is a point of difference.
Growth and expansion
McNeece produces three varieties of Dan Kelly's Cider at the orchard but packaging currently happens off-site because he doesn't have the equipment.
However he's planning to introduce a new bottling line to his operation before the end of the year, which he hopes will help streamline and grow the business.
McNeece wouldn't disclose how many bottles of cider the firm currently produces each year.
"It's not a terribly big business yet – it's still small-scale but we're getting bigger every year. We now have the confidence to go out and invest – like this new bottling line is costing me €250,000 for the equipment and another €100,000 to get it up and running.
"Over the next five years, I'll probably have a significant capital investment between different areas that will need to be updated – the cider press and storage facilities – because I have a feeling that the business will continue to grow."
[embed id="embed_3"]
According to the company's most recent accounts, Dan Kelly's Cider recorded a small loss in 2017.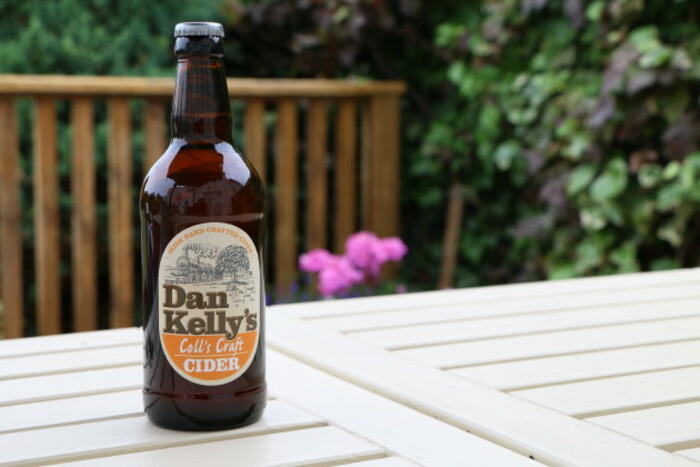 Source: Dan Kelly's Cider
The company recently signed a cross-border distribution deal, which will see the cider rolled out out in shops and pubs in every county in Ireland.
McNeece says the fact that Dan Kelly's is a small operation means it can be more flexible and experimental when trying out new flavours.
For example, at this weekend's Big Grill Festival in Dublin, McNeece is testing a small batch of strawberry and nettle-flavoured cider; if punters like it, he'll consider putting it into production, and if they don't, "then all is not lost".
"There's certainly a beauty to keeping things on a smaller scale. Middle ground is dangerous because you're not big enough to fight your rivals or small enough to be flexible," he says.
"I've no desire to be a big company or sell the business – I'd like to keep this in the family – but there's still scope to get a bit bigger than we are now."
This article is part of our weekly series examining the nuts and bolts of businesses. If you would like to see your company featured please email news@fora.ie.
Sign up to our newsletter to receive a regular digest of Fora's top articles delivered to your inbox.