In its second act, rebooted food-waste startup Obeo is ready to take on new markets
The company almost went under last year but returned as an online-only business.
SIX MONTHS AFTER its near-collapse, food-waste startup Obeo is targeting socially responsible offices and the UK market in its bid to turn the corner.
Obeo, founded in 2014, sold biodegradable food waste boxes for households through online channels and retail chains like Dunnes Stores to help people recycle their food.
However last summer the startup said it was shutting down as increasing production costs had made the business unsustainable.
Within weeks, it rebooted as an online-only business, soliciting pre-orders from existing customers to finance a fresh production run.
Speaking to Fora, co-founder Kate Purcell said the startup raised the funds in three weeks, charging customers €120 each for a year's supply of boxes.
Purcell didn't disclose the total amount raised but said it was enough to finance a full production run.
After fulfilling the pre-orders, it recommenced trading online in mid-December, selling packs of its boxes and subscription services as well as other compostable household products like brushes and scouring pads.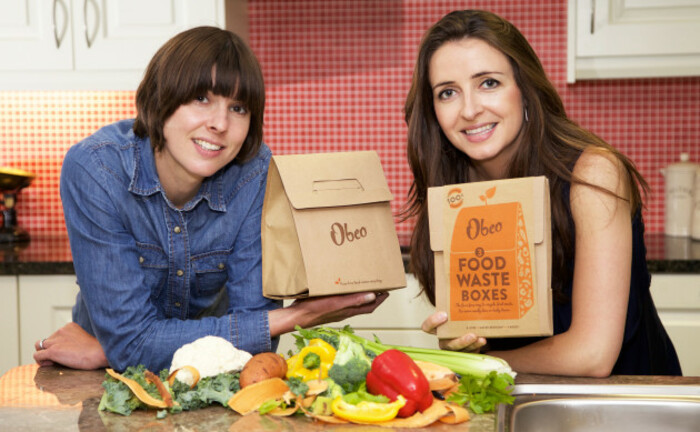 Source: Lensmen Photographic Agency, Lensmen Photographic Agency
Obeo has now inked a distribution deal in the UK, where it had previously dipped its toe but didn't have the full resources to market the product there.
Its biggest change though will be diversifying its target audience.
"We're also focused on targeting offices as part of their CSR (corporate social responsibility) remits so getting offices recycling their food waste through Obeo," Purcell said.
She believes that Obeo is a "very visible way" for businesses to be seen as socially responsible by staff and customers alike.
"Offices have bigger volumes so although the sales might be harder to get at the start, there are volumes there that aren't within an individual household," Purcell said.
The office services are expected to be up and running by March.
Retail
Since the company revived itself last year, Purcell's co-founder Elizabeth Fingleton, an accountant by trade, left the company.
"We're still on very good terms but she just realised that she wanted to step away from the company," Purcell said.
Purcell is now working with financial advisor Bryan Maguire – who has worked with startups through NovaUCD – to devise a better strategy for the company to eventually hit profitability. 
This will not involve a return to shelves in bricks-and-mortar stores in the near future.
While the startup had a big break early on, securing deals with Dunnes Stores and SuperValu, the costs were too high.
Purcell explained that relationships with each store needed to be managed to make sure the products were being stocked and there were further costs with making the various branding for the shelves.
These are costs that Obeo is now avoiding and focusing on organic growth, solely online.
The company previously raised about €458,600 from investors, including Enterprise Ireland. Its latest accounts show it had accumulated losses of over €440,000 at the end of 2017.
Obeo will be staying lean, Purcell added, and isn't chasing investors just yet.
"At the moment we're not actively looking for funding. It's certainly a possibility we're open to, but at the moment, we're going to see how we go with organic growth."
Get our NEW Daily Briefing with the morning's most important headlines for innovative Irish businesses.