Rising costs and tightening margins have forced food waste startup Obeo to shut up shop
The four-year-old outfit had previously featured on RTÉ show Dragons' Den.
DUBLIN-BASED FOOD WASTE startup Obeo has decided to call it a day after rising production costs and ever-decreasing margins made the business unsustainable.
In an email sent to customers yesterday, co-founders Kate Purcell and Liz Fingleton wrote to say the company – which provided biodegradable food waste boxes to homeowners – will "cease trading effective immediately".
"Due to an increase in production costs and reduced margins the business is no longer sustainable," they said, thanking customers for their support over the years.
"We have loved every minute of working at Obeo and meeting some of our fantastic customers. We hope that you enjoyed recycling your food waste with Obeo as much as we did."
The company has now cancelled all customers' direct debits – it offered a €7 monthly subscription service – and has started the process of deleting their personal data.
Fora contacted the founders for comment but did not receive a response at the time of publishing.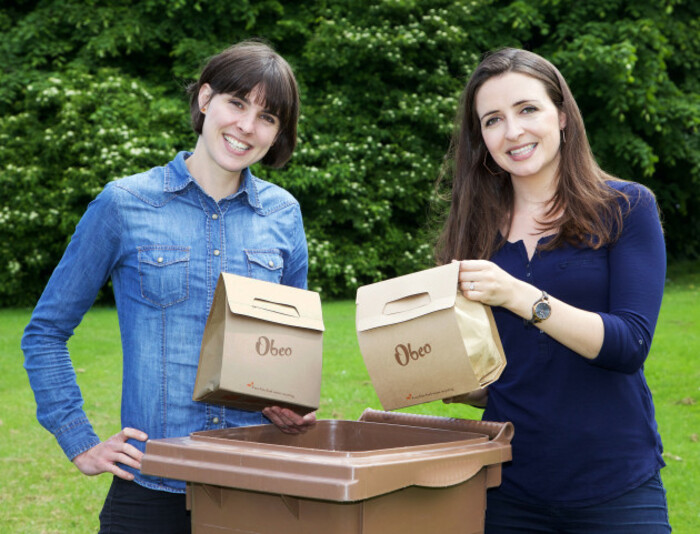 Source: Lensmen Photographic Agency, Lensmen Photographic Agency
Investment
Founded in 2014, Obeo's water-resistant, compost-friendly boxes were stocked in dozens of convenience stores across the country, including several Dunnes Stores and SuperValu outlets.
The firm had also secured a listing last year on Amazon's UK, European and North American websites. It featured on a 2016 episode of the Irish version of Dragons' Den. Although it didn't secure backing, the startup received generally positive feedback on the programme.
Documents published by the Companies Registration Office show that the firm raised about €458,600 since it was established four years ago.
It secured investment from a mixture of UK and Irish investors. State-backed agency Enterprise Ireland put a total of €255,500 into the company.
According to the most recent set of accounts, Obeo Limited recorded a loss of €177,900 in 12 months to the end of 2016, pushing accumulated losses to €337,270.
Sign up to our newsletter to receive a regular digest of Fora's top articles delivered to your inbox.