Norwegian Air's Dublin wing more than doubled its losses the year it launched Irish flights
The Scandi carrier's local unit reported a loss of $445 million in 2017.
THE DUBLIN-BASED SUBSIDIARY of Scandinavian airline Norwegian Air Shuttle more than doubled its losses the year it launched transatlantic flights from Ireland.
According to newly filed accounts, Norwegian Air International – which operates transatlantic flights from Ireland – reported an operating loss of $445 million in 2017, more than double the $205 million loss it recorded during the previous 12-month period.
In July of last year, the company launched transatlantic services from Ireland following a three-year wait.
In the directors' report accompanying the latest financial results, the low-cost airline largely blamed its losses on costs associated with setting up new bases.
"The directors expect this level of activity to increase significantly as the company grows and continues to enter into new transactions," it said, hinting that it would roll out additional services "both within Ireland and internationally".
Last year, Norwegian's sales surpassed the $2 billion mark, up from $1.5 billion the year before. The bulk of its revenue was attributed to inter-company ticket sales.
The carrier's operating expenses increased from $1.6 billion to $2.3 billion. Its fuel bill increased by $200 million to $535 million, while its sales and marketing bill decreased by $4 million to $21.5 million.
Norwegian Air International had an average of 61 employees on the books in 2017, five fewer than the year before. The company's wages and salary bill for the year worked out at about $77,260 per person.
A Norwegian spokesperson said the company's Irish subsidiary "made planned investments in 2017 to support our global expansion that included launching new transatlantic routes and setting up bases that created jobs to fulfil our long-term strategy of building a strong, sustainable and global business.
"We've reached the peak of our growth phase and we plan to build on the success of our transatlantic routes from Ireland by creating more jobs, introducing more flights and a new route to Canada that will benefit Irish consumers and the wider economy."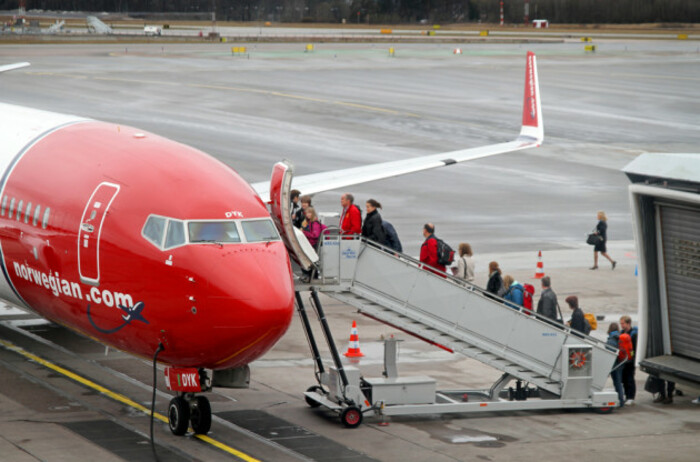 Source: Shutterstock/Michael715
Losses
Documents filed with the Companies Registration Office show that Norwegian Air Shuttle pumped $350 million into Norwegian Air International in 2017.
In total, the parent company has invested $850 million since the Dublin subsidiary was established in 2013.
Throughout 2017, Norwegian Air Shuttle launched 54 new routes, mainly between Europe and the US. In Ireland, it rolled out its long-awaited transatlantic services from Dublin, Cork, Shannon and Belfast airports.
In April of this year, the airline said it would suspend flights from Cork and Shannon airports to Boston-Providence for the winter months. It has since restored the cancelled Cork-Boston service and also announced the launch of Dublin-Canada flights in summer 2019.
Earlier this year, Norwegian Air Shuttle recorded a net loss of 299 million Norwegian kroner (€30 million) for 2017.
"We are not at all satisfied with the 2017 results. However, the year was also characterised by global expansion driven by new routes, high load factors and continued fleet renewal," CEO Bjørn Kjos said at the time.
Note: This article has been updated to include comment from Norwegian Air Shuttle.
Sign up to our newsletter to receive a regular digest of Fora's top articles delivered to your inbox.