'We're not at all satisfied': It's crunch time for Norwegian after multimillion-euro losses
The low-cost airline has pumped $350 million into its Irish subsidiary.
LOW-COST SCANDINAVIAN AIRLINE Norwegian Air Shuttle reported bigger than expected losses last year, which it has blamed on rising costs associated with its rapid expansion.
The airline – which operates transatlantic flights from Ireland through the Dublin-based subsidiary, Norwegian Air International – recorded a net loss of 299 million Norwegian kroner (€30 million) for 2017.
Throughout last year, it recorded sales of 31 billion NOK (€3 billion), up 19% on 2016′s tally, and carried more than 33 million passengers.
A total of 32 new aircraft were added to its fleet of 150 Boeing aircraft. Norwegian's load factor - a key metric measuring the number of seats filled on a flight – was at 88%.
Norwegian's financial woes were attributed to "significant costs" related to increased fuel prices, wet leasing – when an airline provides aircraft and crew to another carrier – passenger services and staff training.
"We are not at all satisfied with the 2017 results," Norwegian CEO Bjørn Kjos said. "However, the year was also characterised by global expansion driven by new routes, high load factors and continued fleet renewal."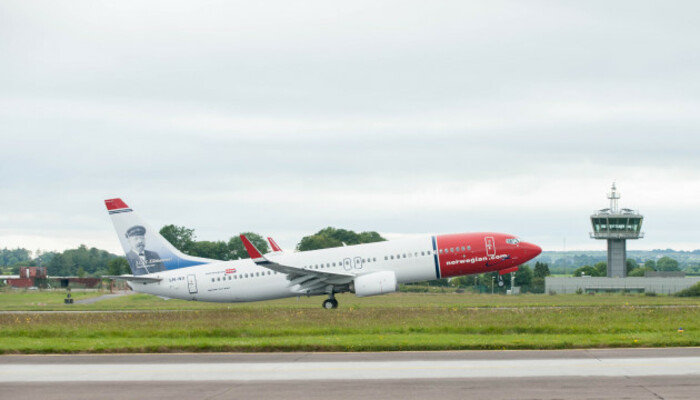 Source: Brian Lougheed
Last year, Norwegian launched 54 new routes, mainly between Europe and the US. In Ireland, it rolled out its long-awaited transatlantic services from Dublin, Cork, Shannon and Belfast airports.
Earlier this month, it announced that it will add a second daily service on its Dublin to New York-Stewart International route from April. It will also double its Shannon to Boston-Providence from two a week to four and is adding a third weekly flight there to Stewart International.
Documents recently filed with the Companies Registration Office show that Norwegian Air Shuttle pumped $350 million into its Irish subsidiary by the end of last year.
In total, the company has invested $850 million since Norwegian Air International was established in Dublin in 2013.
'Disappointing'
In a briefing note this morning, analysts at Davy stockbrokers described Norwegian's poor final-quarter results as "a familiar tale".
"Norwegian's Q4 results again missed expectations based on further cost escalation. Disappointingly, this was not driven solely by staff training ahead of (2018′s) growth and there was also unit cost growth in maintenance, handling, sales/marketing," it said.
Davy pundits said 2018 will be an important year for the low-cost carrier to justify its investment:
"For Norwegian's investment case to stand up to scrutiny, this trend will need to show an improving trajectory."
However, Norwegian boss Bjørn Kjos is confident the airline will deliver healthier results throughout the coming 12 months.
"Norwegian is far better positioned for 2018, with stronger bookings, a growing network of intercontinental routes complementing our vast European network and, not least, a better staffing situation," he said.
"Our major global expansion reaches its peak in the second half of 2018, when 32 of our 42 (Boeing 787) Dreamliners on order will have been put into service."
Sign up to our newsletter to receive a regular digest of Fora's top articles delivered to your inbox.