There's a lack of new hotel rooms in regional cities. Here's why investors aren't biting
Fáilte Ireland says that Kilkenny and Galway are crying out for fresh accommodation.
THERE IS GROWING demand for new hotel rooms in Ireland's secondary cities – but investors have been reluctant to back regional builds because they can't deliver the same returns as Dublin.
Fáilte Ireland recently issued a call-out for investment in fresh bed stock in Kilkenny and Galway following the publication of a study highlighting the need for new rooms to match rising demand in the cities.
The report found that just 41 rooms will likely be added to Kilkenny's stock by 2022, some 35 of which are still in the design phase of the construction process.
In Galway – which is over 80% full at peak times – up to 490 bedrooms are due to come on stream over the same four-year period.
Fáilte Ireland couldn't provide Fora with figures for projected shortfalls in Kilkenny and Galway but said that there is a requirement for new stock to keep up with growth.
"Experience shows that urban tourism grows at a faster rate given the choice and supply of tourist-related accommodation and experiences (in cities)," a spokeswoman said.
"Given that hotel occupancy rates are at an all-time high … there are clear opportunities for Galway to further unlock growth with additional room supply. There are significant opportunities in Kilkenny for additional bed capacity to accommodate future growth."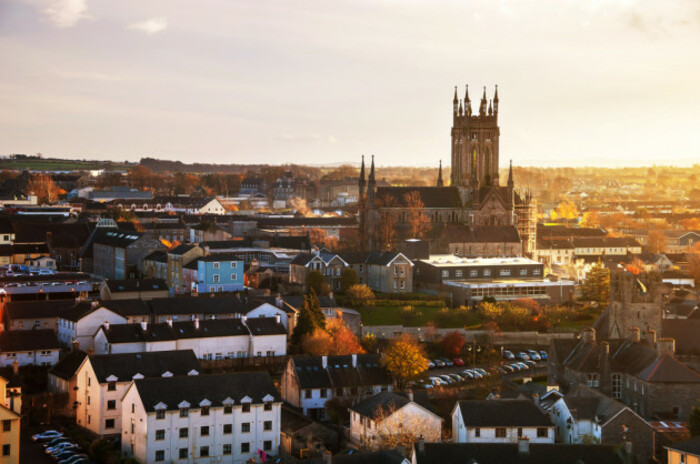 Source: Shutterstock/Madrugada Verde
With overseas visitor numbers forecast to increase 20% by 2022, tourism officials will be keen to avoid accommodation squeezes that contribute to higher room rates – which are soaring across the country - especially as Ireland's value-for-money rating is already in decline.
But high room rates and occupancy levels are driving forces for investment – which is part of the reason why Dublin has received more attention from backers, industry commentators have said.
A recent analysis by stockbroker Davy noted that average daily room rates are increasing across the country but at a much more rapid pace in the capital city.
Dublin's average daily rate grew 43% between 2014 and 2017 compared to a 17% rise in regional Ireland during the same period.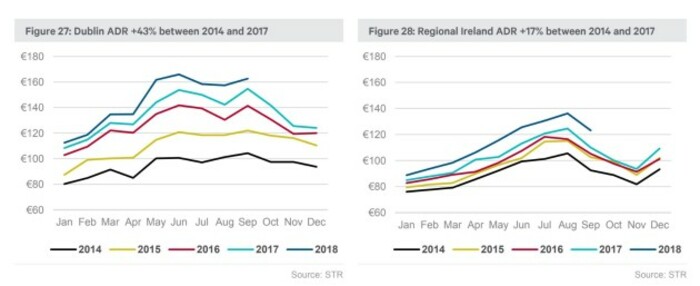 Source: STR/Davy
Click here to view a larger version
Dublin interest
Davy said that the slower growth in regional areas "is a key factor in explaining why the skew in new supply has been weighted towards Dublin".
Tom Barrett, director of hotels and leisure at Savills Ireland, said high prices and occupancy rates have made it more "viable to build a hotel in Dublin".
Until recently, it was more worthwhile for an investor to purchase an existing property in the city than invest in a new one.
Investec economist Ronan Dunphy added that Dublin also benefits from having a more even spread of visitors throughout the year.
It doesn't experience to the same degree the summer peaks and winter troughs of regional locations, including Galway.
"The viability of new hotel projects in regional cities is sometimes unclear, particularly given seasonality factors," Dunphy said.
However, despite the strong interest in Dublin, analysts predict that the country's secondary cities will eventually secure the required investment, although it may take longer than four years.
Kilkenny in particular is likely to find it harder to attract investment.
Barrett explained that the city is "predominantly a leisure destination" with high seasonality. Several pundits have noted that trade from corporate customers helps generate revenue during the quieter times of the year.
"With better year-round demand, it becomes commercially viable to build new hotels in locations like Kilkenny," Barrett said.
Get our NEW Daily Briefing with the morning's most important headlines for innovative Irish businesses.