Irish hotels are pulling in record profits as rates soar around the country
Industry analysts Crowe say the new challenge for the sector is growing to meet demand.
HOTEL PROFITS HIT record levels last year as buoyant demand from visitors put a squeeze on capacity across Ireland.
But despite bumper incomes in the sector, the industry's preferential VAT rate may still be needed to enable hotel operators to continue expanding their businesses, a leading analyst says.
The annual Crowe Ireland hotel industry survey found that both occupancy levels and profitability hit new highs last year as a record number of international visitors travelled to the country.
Room rates were up 6.9% on average compared to 2016, with the largest price increases coming on the western seaboard – where prices were up an average 9.7%.
It was the first year since 2011 when average room rates increased at a faster rate in regional areas than in Dublin, where a severe shortage of accommodation has already pushed prices to record levels.
Crowe partner Aiden Murphy told Fora that capacity constraints that previously existed only in the Dublin hotels market were now materialising across Ireland.
Occupancy rates in Dublin were also the highest at 83.5%, compared to around 70% in other parts of the country.
"The danger is, with hotels being full or near-full, that rates could climb, especially in the regions, where prices have been increasing faster on average than in Dublin for the first time for seven years," Murphy said.
While overseas trips to Ireland have increased from around 6.5 million in 2012 to 9.9 million in 2017, there have been few new hotels completed since the crash.
Only 237 new rooms were added in Dublin last year, and all of these were extensions to existing buildings, Murphy said.
"Part of the challenge here is that it takes three years from concept stage to opening the doors of a new hotel – and that three years can be delayed further if funding isn't available," he said.
"We have a pipelines of project opening in 2018, 2019 and 2020, but that pipeline is probably only going to provide 50% of the requirement in the market."
Trade body the Irish Tourist Industry Confederation has said an extra 11,000 hotel beds will be needed nationwide to cater to the possible increase in demand over the next eight years.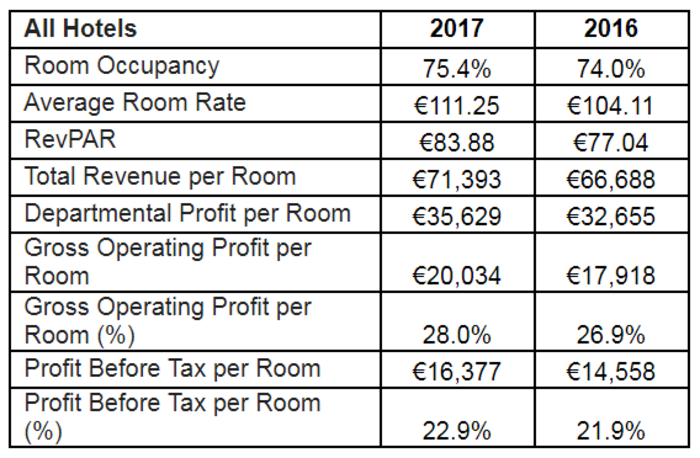 Source: Crowe
Profitability
The shortage of hotel rooms and increased demand from visitors has been delivering a windfall for hoteliers' bottom lines.
The Crowe survey found that hotels in Dublin increased their profits by an average of 12% per room last year, while the annual increase was 17% increase on the western seaboard.
Pre-tax profits per room in the capital stood at €22,952, compared to €11,091 in the west, €12,064 in the south-west and €13,463 in the midlands and east.
Despite the bumper returns, Murphy said there was a case for maintaining the tourism and hospitality sector's preferential 9% VAT rate – introduced as a temporary measure in 2011 to stimulate the recession-hit sector.
In recent years, pressure has been mounting on the government to increase the rate to 13.5%, although the industry has argued the sector still needs protecting, particularly with Brexit looming.
A Department of Finance review, published yesterday, said lifting the preferential rate would deliver an estimated €520 million yield for the Exchequer in 2018. Some €2.6 billion in revenue had been foregone since the preferential rate was introduced.
The review said demand for the services covered by the lower tax rate wasn't expected to be affected significantly by an increase. It said the costs associated with the preferential rate measured against its "limited benefits" indicated "significant deadweight".
However Murphy said the challenge for the tourism sector would be growing capacity and hotel operators needed to show they had enough sufficient profits to add more rooms, particularly in areas outside Dublin where new building still wasn't viable.
"We need to get certainty on this matter. The concern is that we end up having an annual debate (on the VAT rate) that will mean that banks will not fund many of these projects that would go ahead if there we certainty," he said.
Sign up to our newsletter to receive a regular digest of Fora's top articles delivered to your inbox.