The long-awaited National Broadband Plan has been pushed back again
It could now be 2022 before every home in Ireland has access to high-speed internet.
THE GOVERNMENT HAS pushed back the timeline for its long-awaited national broadband network after confirming it won't sign a contract with the winning bidder until at least next year.
It was announced in July that 85% of premises should have high-speed broadband connections by 2018 with that share rising to 100% by 2020 under the National Broadband Plan.
While a tender was issued in December, the Department of Communications, Environment and Natural Resources today confirmed that it now wasn't expecting to award a contract until 2017.
It is anticipated the installation would take between three and five years, delaying the potential completion date to as late as 2022.
Communications Minister Alex White said at the time of the July announcement that he expected to be ready to sign an agreement with whoever won the tender for the plan by mid-2016.
Some €275 million in capital funding was allocated to the scheme in September, although the full cost of the project was expected to be spread over 20 years and come in much higher.
The proposed deal is to deliver minimum download speeds of 30Mbps to around 750,000 premises and cover the estimated 30% of buildings that wouldn't have broadband access from commercial operators.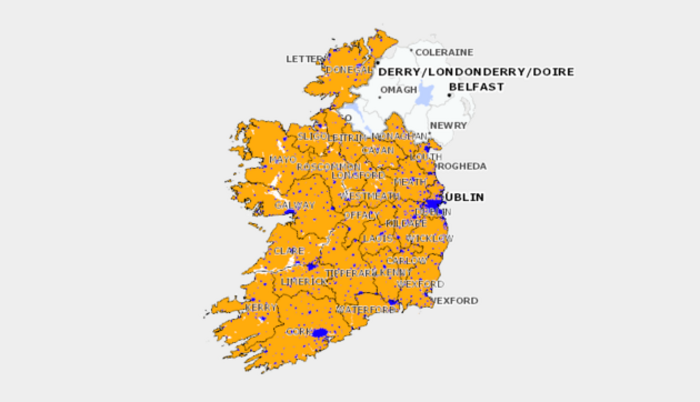 Source: DCENR
A priority
The department has received five bids for the first stage of the tender, however it cited the "extensive procurement planning", a previous deadline extension and the number of responses received for the contract delay.
"Building the network in the intervention area remains a priority and we are seeking the fastest possible deployment," it said.
Then-minister Pat Rabbitte first unveiled the rural broadband scheme in 2012, although it wasn't until 2014 when the 'stakeholder consultation' phase of the project got under way.
Ireland has historically had some of the worst broadband coverage in Europe, however the figures have improved significantly since 2014 with major fibre rollouts from Eir and other private-sector operators.
read more on