These are the most popular food and drink brands in Ireland
Indigenous names such as Brennans Bread, Avonmore and Tayto all ranked high in the list.
SOFT DRINKS DOMINATE the list of top-selling brands in Ireland, according to new consumer research.
Data published by retail magazine Checkout has shown that Lucozade, 7UP and Red Bull are all among the top-10 brands for sales in Ireland, while Coca-Cola retained its position at the top of the list for the 14th year in a row. 
The research, compiled by market insights firm Nielsen, measured the sales performance of over 6,500 brands from more than 200 product classes. These products were assigned a ranking based on the total value of their sales in mainstream grocery outlets. 
Irish brands, including Brennans Bread (3rd), Avonmore (4th), and Tayto (5th), also ranked among the highest-selling brands in Ireland. Chewing gum brand Extra (8th) and biscuit producer Jacobs (9th) rounded out the top 10.
A number of indigenous products made headway in the list, including protein bar brand Fulfil, which has climbed from 68th place in 2017 to 49th this year.
The O'Donnells (77th) crisp brand also jumped 19 places since last year, while Keogh's Crisps (96th) broke into the top-100 list for the first time. 
A number of other brands achieved their best ranking to date, including Hunky Dorys (16th), Cully & Sully (50th) and Clonakilty (80th).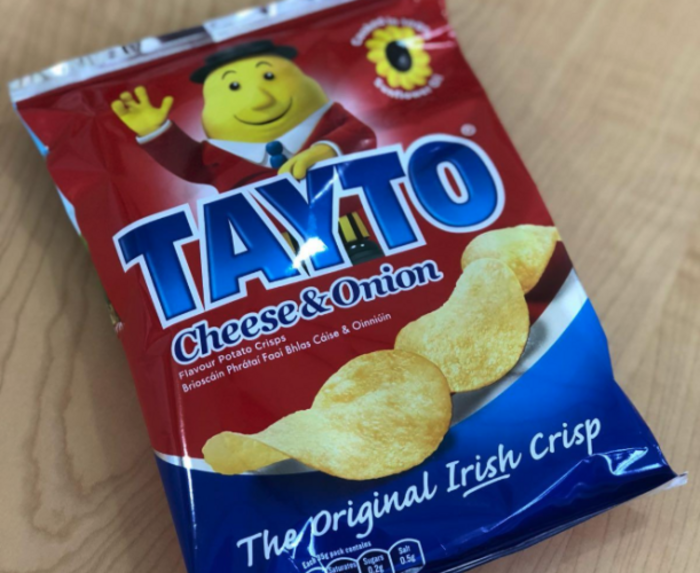 Source: Tayto
The list of brands also showed that Barry's Tea (21st) cemented its position as Ireland's best-selling brand in its category ahead of rival Lyons (30th). Only three years ago, the two products were neck and neck with Lyons one place ahead of Barry's Tea.
Meanwhile in the alcohol category, Heineken led the way for the fifth year in a row, with Santa Rita listed as Ireland's biggest-selling wine. Smirnoff was the highest-selling brand in the spirits category.
[embed id="embed_2"]
Rising categories
The research also measured sales in each brand category – with confectionery leading the list – and showed there has been a shift towards healthier eating habits.
Pre-packed fresh berries jumped six places this year to the 13th spot, while granola bars moved up two places to 44th. The frozen, prepared-vegetable products category, which entered the top-100 list last year, moved up six places to 93rd. 
Full list of top 10 brands:
Coca-Cola
Cadbury Dairy Milk
Brennans
Avonmore
Tayto
Lucozade
7UP
Extra
Jacobs
Red Bull 
Sign up to our newsletter to receive a regular digest of Fora's top articles delivered to your inbox.