How these two marketeers got their protein bars in every corner of Ireland
Fulfil Nutrition is on track to sell 30 million bars in 2017 a year after launching.
IT APPEARS LIKE they're everywhere at the moment, but it's no accident – Fulfil's protein bars have made their way across Ireland due to a carefully thought-out plan.
Fulfil Nutrition, set up and self-funded by ex-marketeers Tom Gannon and Niall McGrath, has been growing like a whey-fuelled wildfire over the past year.
The company makes a range of protein-enriched, low-sugar snack bars sold now everywhere from the big supermarket chains to independent health stores.
In 2016, it sold 15 million bars – equating to roughly €30 million in sales at retail tills – and it's on track to double that figure this year, with its headcount swelling to nearly 20 staff.
According to Gannon, the plan from the start was to "make the brand feel bigger than it was" – and that meant getting Fulfil bars where people couldn't avoid seeing them.
"Everyone has to fill their car up, that's a reality," he tells Fora. "So we positioned our first batch of products within the leading forecourt chains in Ireland.
"Then we identified some key retailers in cities, like Dublin, Galway and Cork, and all of a sudden it felt like we were in thousands of accounts when we were only in 300."
After that, the orders from rival retailers started pouring in.
"Other retailers were filling their cars and seeing this new product everywhere and started contacting us. It exploded then and gave us our initial problems around production. We couldn't meet the demand."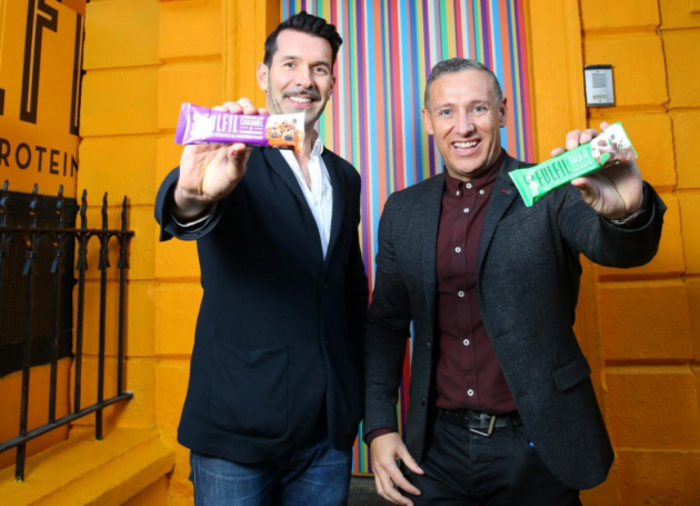 Source: Marc O'Sullivan
Demand issues
When Gannon and McGrath first looked into launching a snack range, they had plans for a small business on the side that helped "fund one or two nice holidays a year".
Their initial plan was to sell around 85,000 cases in its first year – roughly one million bars – but that target was revised down to 35,000 cases by advisors.
"Accountants thought the two of us were living in a dream world," says Gannon.
"Nobody was to see the reaction to the brand and how people bought into it. For me, you can do as many outdoor campaigns, but the best form of visibility is getting as close as you can to the cash register."
The company's sales have ridden the rising wave of protein, the latest health trend to buoy the fortunes of firms from multinational dairy processors to small snack producers.
Gannon says retailers need to understand that people's tastes have shifted away from traditional sweets, citing the trend of people buying bottled water over carbonated drinks.
"We try and explain to them why a brand down in the health and beauty aisle can be brought nearer the cash register."
Taste testing
Nevertheless, despite the firm's sales success to date, Gannon says he and McGrath "still feel like two virgins to this business".
After the product's launch in 2016, Gannon kept working for Richmond Marketing – the agency where both he and McGrath handled accounts for the likes of Red Bull and Volvic.
However he's since moved to full-time with Fulfil as the pair pushes into new markets and carries out research like taste-testing flavours to suit different national palates.
"We talk about mint in the Nordics, and they think it's only for lamb. They might ask for a liquorice bar and I'm thinking, 'I don't think I can sell that anywhere else in the world'.
"The complexity is identifying the key flavours. We will continue to expand the brand, but it's not just for Ireland, we need to adapt to people's tastes.
"In Ireland, strawberry hasn't been the biggest in the range, but in the Middle East it is the number-one bar. So we're still learning about all the different markets."
[embed id="embed_2"]
Café range
After starting out in Ireland's largest forecourts, Fulfil bars are now on sale in 440 WH Smith outlets and Penneys stores across Ireland.
Gannon says the company has also just signed a deal with Albert Heijn, a Dutch supermarket chain with a two-fifth market share, and also Holland & Barrett across the Benelux region.
"We did just under 15 million bars with in 2016 and we'll double than that this year. In 2018 we'll be going live in Australia, so we're going to need another 50% on top of that."
The company also has plans to establish a presence on high streets with its own range of cafés.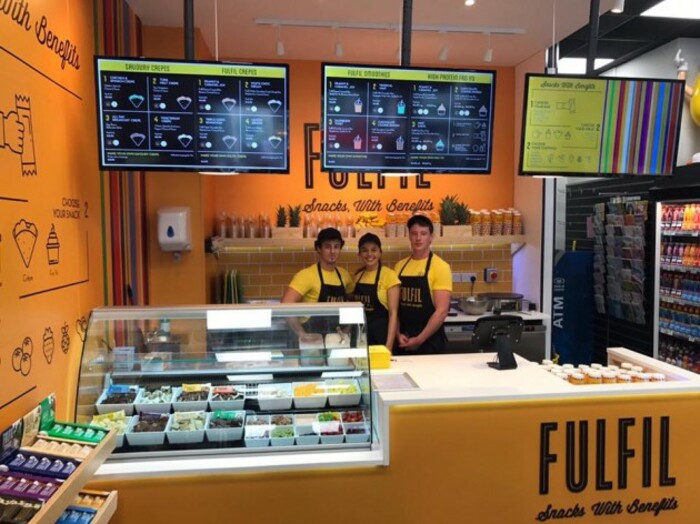 Source: Fulfil
Last week the doors opened on its first Fulfil café kiosk, set up in and run by a Londis in Dublin's city centre.
The plan built on a successful pop-up shop last year that "took in an awful lot of money over the three days", according to Gannon.
"We could see people using the product in different ways on social media. There are about 12,000 posts on Instagram from fans and a third are about different ways they eat the product, so we thought there was something there."
Gannon says the company has been too busy with other projects, such as developing exports to new regions, to manage the first kiosk, although its future plans are for a network of franchised and company-owned cafés.
"We believed this can be more than an Irish phenomenon. We've had at least 20 people contacting us this week to ask if we're franchising the model out, which long-term would be the goal.
"The plan is to have five standalone shops by this time next year and 15 to 20 franchises. We will be in the Middle East with two of them.
"We want every country we're trading in to have these and we should be up in operation in the Middle East by June of next year."