Moby is building personal transport products for the next phase of electric micro-mobility
As part of our weekly Startup Spotlight series, we profile the transportation company.
AFTER FINDING SUCCESS with the toy scooter company Yvolution, Thomas O'Connell is looking at a very different kind of personal transportation.
Previously O'Connell was chief executive of the company behind scooters aimed at kids, which pulled in €41 million in turnover in 2018.
However he was feeling the itch to try something new in the micro-mobility space, this time aimed at adults.
"I sold my shares in that company last year because I wanted to get into the more electric space," he says.
"One is on the development of micro-mobility products and then the other side is more on the sharing side like dockless bikes schemes," he adds.
The result is Moby, a Dublin-based startup that is preparing to launch its first product, the Jyroball. It's a motorised ball-shaped device that a user stands on, akin to the 'hoverboards' that enjoyed plenty of buzz a few years ago.
The electric-powered Jyroball though, according to Moby, is a more advanced product that's been in development for four years. The 10″ sphere can top speeds of 20 km/hr with a range of 24km.
O'Connell says the device is meant to complement your commute or journey.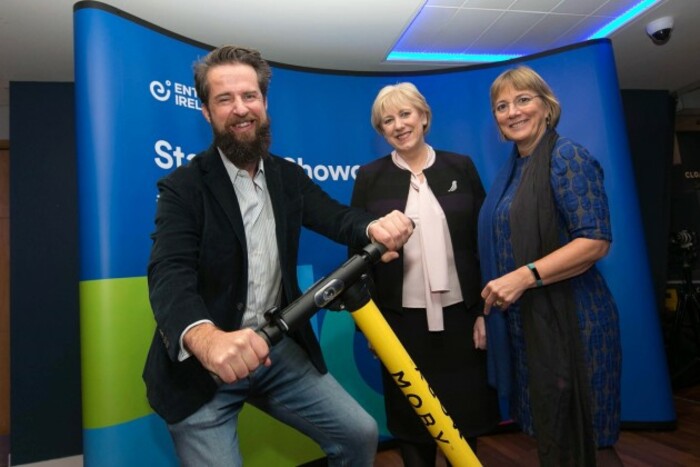 "What is a good product that's practical to take on to trains and buses? We focused on designing something really small and compact, light and portable."
Crowdfunding
The business is running an Indiegogo crowdfunding campaign, aiming to raise at least €200,000 to bring the product from manufacturing to market. It expects to begin shipping in September.
"We're already working with manufacturers in China. It will be made in Shenzhen and we'll warehouse them in the US and Ireland and we'll sell direct to consumers," he says.
O'Connell wants to maintain a direct to consumer line for the business by selling online rather than getting onto shelves in stores.
"I'm very focused on creating an e-commerce company and business. I've been there, done that with the last company in terms of going to the retailers around the world," he says.
"It's just not a good time to be approaching retail, it's kind of in a shaky state at the moment. I'd rather structure the company that it's more direct to consumer, at least for the next couple of years."
Jyroball is the first of three micro-mobility products that Moby hopes will form an entire range.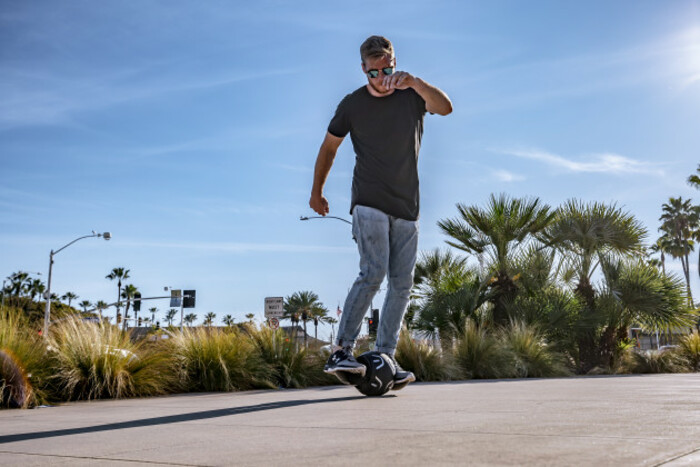 Source: Moby
"Over the last year we've been designing and developing those three products from concept to prototype," O'Connell says.
"One is focused on the extreme skateboard category and then we'll be getting into scooters and bikes. We're launching some really innovative products at the moment."
Going electric
Electric bikes and scooters have flooded city streets in recent years, largely thanks to tech companies like Lime and transportation app giant Uber.
The on-demand services allow users to find scooters and bikes around their cities. For proponents, they're a clean alternative to cars.
"A lot of CEOs talk about micro-mobility being the future and how cars are going to be non-existent in 20 years' time and most people are going to use some form of micro-mobility," O'Connell says.
He sees products like the Jyroball fitting into this picture of alternative transport but the whole business area has raised challenges with various city officials around safety and road legality.
O'Connell isn't fazed by that uncertainty as more and more jurisdictions start to clarify the law.
"From a business perspective, (it doesn't affect Moby) because our market is more the US and Europe. In the US and Europe, the laws have all changed it's just that Ireland and the UK are lagging behind," he says.
"As a businessman, it's not great that we don't have the laws here in the UK and Ireland yet but our market is worldwide so it's a big world but I'm sure that the laws will change in the near future.
"It's just a waiting game. I believe Ireland will just follow the rest of the world and make the laws the same."
[embed id="embed_3"]
With O'Connell anticipating that Europe and the US will be Jyroball's biggest markets, it has plans to eventually open a customer service centre in the US to be closer to customers.
As well as the Indiegogo crowdfunding campaign, the startup is taking part in Google's Adopt A Startup programme with 15 other startups with a top prize of €10,000 in Google Ads credit.
After the crowdfunding effort ends, Moby intends to operate on its own cash flow, O'Connell says, before considering outside investment.
"I've already put in my own money and we got Enterprise Ireland matched funding," he explains.
"Depending on the success of the upcoming campaign, I'll know what our business is going to be for the next year and then I can figure out if I need to raise money or not or if we can fund it out of existing cash flow."
Get our NEW Daily Briefing with the morning's most important headlines for innovative Irish businesses.