Plans to put a children's play centre in Swords superclub the Wright Venue have been shelved
The local council said the proposal from owner Michael Wright would require full planning permission.
A PLAN TO turn a section of Ireland's biggest nightclub into a play centre for children has been shelved.
Earlier this year, Howth businessman Michael Wright registered a query with Fingal council about using part of his nightclub, the Wright Venue in Swords, as a play centre.
Wright requested clarification from the council on whether or not planning permission was required to change the use of one floor of the building into a play centre for children.
However, the local authority said the proposal cannot be considered 'exempted development' and would need to go through the full planning application process.
It ruled that the project would be a "material change of use and will introduce activity into the area including additional traffic, vehicular and pedestrian movements, demand for car parking" and other such issues.
Following the council's decision, a spokeswoman for Michael Wright told Fora the businessman won't be applying for planning permission at present.
Source: RollingNews.ie
When the plans were initially filed, the spokeswoman said the play centre would occupy a small section of the three-floor building and the nightclub would "still trade as normal".
According to documents previously filed with Fingal County Council, the children's centre would have incorporated the dance area of the venue.
Business ventures
The Wright Venue is located in Airside Retail Park, which also contains some large retail units, a hotel and medical clinic.
The Swords bar and club is spread across three floors and includes an over-23s penthouse area on the third floor. 
Since it opened in 2009, the Wright Venue has staged parties for celebrities like Rihanna, 50 Cent and Ellie Goulding.
The nightclub is one of a number of enterprises controlled by Wright, whose Howth family owns several restaurants, a seafood business and Dublin Airport's Marquette food hall.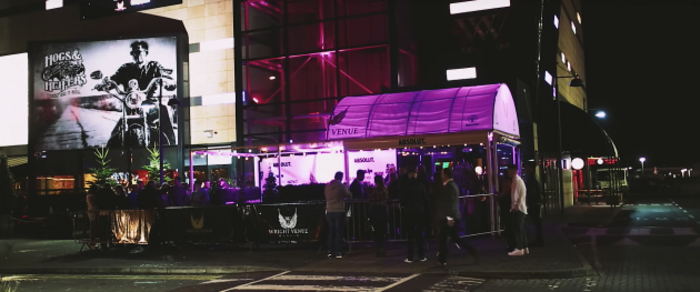 Source: YouTube/The Wright Venue
In recent months, the businessman has led a project to convert an old church in Dublin city centre into a tourism hub.
Wright applied for planning permission to overhaul St Andrew's Church and replace the vacant structure with a licensed food court, banqueting hall and culture centre.
Dublin council's planning authority has requested further information about the project from Wright ahead of making a final decision on whether to grant planning permission. 
Sign up to our newsletter to receive a regular digest of Fora's top articles delivered to your inbox.