'Housing is too expensive - planners must have twiddled their thumbs during the recession'
Glandore founder Michael Kelly also explains why Ryanair's boss is a hero.
WORKSPACE PROVIDER GLANDORE has seen a number of big names pass through its offices in Dublin and Belfast.
The family-owned company has helped heavy hitters like Bloomberg and Twitter set up shop when they first came to Ireland.
One of the most high-profile companies it helped house on these shores was Facebook, which rented a Glandore unit near the Grand Canal when it first arrived here in 2009.
Specialising in short-term office and co-working space, Glandore was founded in 2001 by Michael Kelly, who today runs the business with daughters Clare, Fiona and Rebecca.
The company has six properties in its portfolio, which can cater for up to 4,000 workers.
Glandore recently filed accounts for the year to the end of June 2017, which showed that it booked a profit of just under €800,000 during the 12-month period, pushing accumulated profits to €3.1 million.
For the latest instalment in our question-and-answer series, we spoke to Michael Kelly about the housing crisis, his most costly mistake and why he never tends to worry.
Here's what he had to say: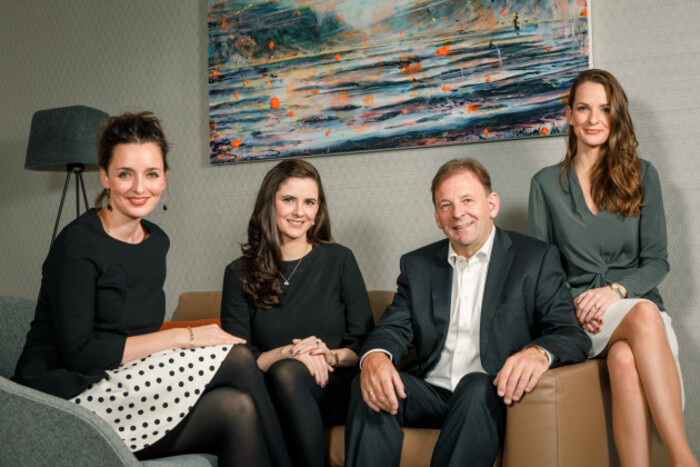 Source: Con O'Donoghue
On average, what time do you start work in the morning and what time do you clock off?
I like to start by about 9.30am and finish by 7pm, but of course that's not always possible.
I like to get to the gym before work. It's always useful to get the exercise in early in the day. It's very, very valuable for both your mental and physical health.
What was your earliest or childhood ambition? 
From a very early age, I wanted to be a pilot. I was thinking in terms of the Royal Air Force. I don't know if that was to do with books, but that's my very first recollection. I'm sure that wouldn't be that unusual for many young lads.
Later on, when I was in my teens, I started to think I might like to be a diplomat. I was thinking in terms that if you were a diplomat, you'd get to travel and be representing your country in other places. I thought that might be interesting and exciting as well.
What's the worst job/task you've ever had to do?
I spent the summer of 1972 in the States. I worked as an exterminator and we were exterminating termites and carpenter ants. That was probably my worst job, but it wasn't that bad.
What's the biggest rip-off and greatest bargain in Ireland? 
I think housing is far too expensive. I think it needn't be as expensive as it is. I think that successive governments have failed the people in dealing with this as a significant issue.
I think in recent times, the Department of the Housing, Enda Kenny's government and Leo Varadkar's government now haven't really dealt with the issue.
The planners seemed to have spent the entire period of the recession just twiddling their thumbs rather than planning for what needed to happen. So I think housing is far too expensive and it needn't be.
In terms of best value, I think we're very fortunate in Ireland to have high-quality food. I think as a country, we're very fortunate that we have very high-quality agricultural produce.
The quality of the foods that is available to Irish people is of a very high standard and is good value generally.
What would you like to own that you don't currently possess?
I'd love to have a nice holiday home in the south of France. My ideal location would be between the sea and the mountains. That would be my request from Santa Claus or the tooth fairy. So if you have a magic wand…
What's the best advice you've ever received?
I was advised many years ago that when you're hiring people, you should hire good people with a good attitude – and they should be the right fit in terms of the company culture as well.
So taking care in hiring is important. Having done that, it's important that you take care of your staff, that you respect them and empower them. I think in terms of advice, that has stood well for us.
What's the one skill you wish you had?
If I was adding anything to the Santa Claus list, I would love to have a better singing voice. I'm told I don't actually have one.
Secondly, I'd love to have the ability to learn a musical instrument. I think it's a fantastic skill to have.
What bad work habit have you had to kick?
I try to have a balanced life. I'm an optimist by nature, for starters. I don't tend to worry. I look on things from a positive point of view: what can be done rather than what can't be done.
I try to take regular exercise and try not to spend too long in the office because I think that's a bad idea as well.
Who is your business hero?
I'm a great admirer of Michael O'Leary. I think he has done a phenomenal job. I've been aware of him since he went into Ryanair in the 1980s – he was only a young fellow and was a fantastic find for Ryanair because the company was on the floor at the time.
He has built that business into the biggest airline in Europe by passenger size. He hasn't always been everybody's cup of tea, but in terms of building a business, he's done a phenomenal job. He's a hero as far as I'm concerned.
Sign up to our newsletter to receive a regular digest of Fora's top articles delivered to your inbox.