'Anybody in their right mind would have been concerned - we were learning on the job'
As part of our How My Business Works series, we profile Codd Mushrooms.
CODD MUSHROOMS MAY be one of the biggest players in its industry, but 29 years ago it started out as a much more modest operation.
After leaving school, Leslie Codd decided he wanted to be out on his own making money rather than going to college.
He had a background in agriculture, growing up on his family's farm in Carlow, but the teenage entrepreneur went down a slightly different route and set up a small mushroom-growing facility.
"There was a lot of talk about the mushroom business back then as an option for people to get into agriculture," he tells Fora.
"With conventional mixed farming – sheep, cattle, crops – you need a lot of land. But mushrooms are intensive horticulture, done in an indoor facility, so it was a good option for us starting out."
Initially it was a one-man operation, supplying mushrooms for other companies that would sell them in the UK. But a few years later, Codd was joined by his brother Raymond.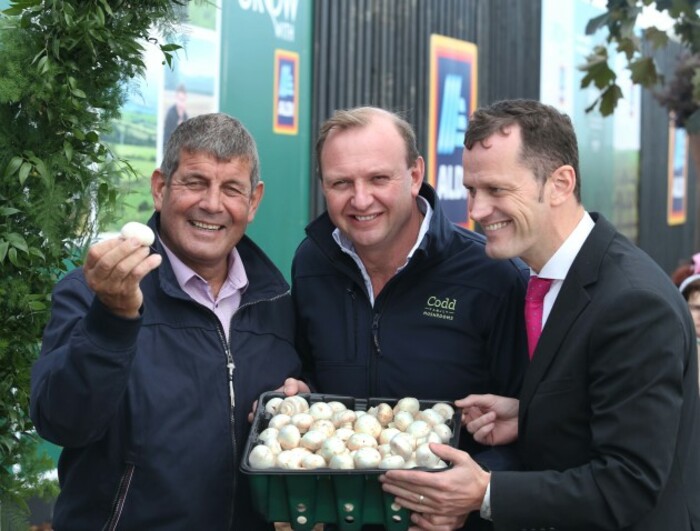 Source: Leon Farrell/Photocall Ireland
In 1998, after nearly a decade of developing the mushroom growing business, the Codd brothers decided to start another company that would take care of the packaging and marketing of their own produce.
They opened a facility in Baltinglass and Codd Mushrooms was born.
But Codd admits that starting a business at 18 brought some challenges and it wasn't all plain sailing to get the business to where it is today.
"Anybody in their right mind would have been concerned. There was concern about the risk and reward, the work involved, all that stuff," Codd says.
"We were very much learning on the job, learning from our own mistakes."
'A huge risk'
Around 10 years ago, Codd decided to take another big step, centralising both sides of the business in one new facility back at the family farm in Tullow.
Between the two businesses, produce is grown, picked, packaged and shipped all from one location.
"It was a big decision to build the new production facility. That was a huge expense and a huge risk. We took on a lot of debt but in hindsight it was the correct decision to make," Codd says.
Now, the company produces around 100 tonnes of white mushrooms every week, including button, cup and flat.
It also sources other varieties, such as portobello and chestnut, from other growers in Ireland, but Codd says that 80% of the mushrooms he ships originate from his own facility.
Three-quarters of the business is supplying big retailers such as Aldi, Tesco, and Dunnes, while the rest goes to the food service industry. The company also has its own branded range – The Honest Farmer.
"The main thing I've learned in this business is that it's very important to spread your risk – you can never be too reliant on any one customer," Codd adds.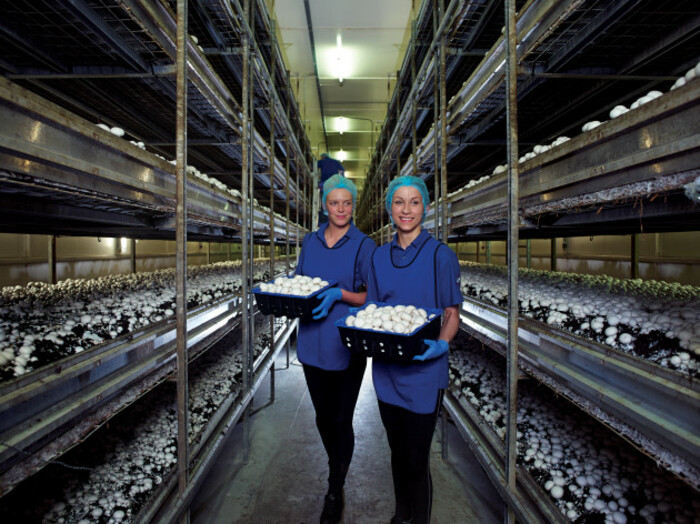 Source: Codd Mushrooms
Codd says that growing mushrooms is a very labour intensive business, as produce needs to be hand-picked and the process is relatively quick, with less than three weeks between planting and harvesting.
To keep up with increasing production, the company now has around 250 staff.
Codd adds that total turnover for the company was more than €20 million last year.
According to the most recent public accounts for cultivation business Tullow Mushroom Growers and marketing company Codd Mushrooms Ltd, combined turnover was €26.9 million in 2016 and both businesses turned a profit.
'It could jeopardise growers'
Over his career, Codd says that he's seen plenty of changes in Ireland's mushroom industry, especially when it comes to competition.
"There was over 1,000 growers in the mid-90s. Now there's only around 45 left."
Codd attributes this decline to the fact that mushroom growing has become a "more specialised" business, with only the bigger players left standing.
"Years ago, there would be situations where somebody would grow mushrooms and have a dairy farm or something else. But now it's very much a company that you have to run full-time. It's intensive with a lot of staff and you couldn't survive on a small output anymore," Codd says.
"There are still growers closing down. The margins are very tight, it's difficult to get staff. It has just become a tough business – people are unwilling to expand and there will be a lot more closures.
"You have to balance things. You have to stick with it – no more than any other business you have to take the highs and the lows."
The Irish mushroom industry is the largest horticultural sector in Ireland, according to Teagasc, employing more than 3,500 people in total and worth about €136 million a year.
However, around 80% of produce is currently exported to the UK, and a number of Irish growers have shut up shop since the Brexit referendum.
As his business only supplies firms in Ireland, Codd says that he's largely protected but that Brexit is a big issue for the industry as a whole.
[embed id="embed_3"]
"I think the way Brexit turns out will seal the fate of a lot of growers. The industry is hopeful of a good outcome, but if it's bad it could jeopardise the viability of the remaining growers."
'A bit of security'
Another one of the big changes Codd has had to deal with is advances in technology and automation – which have required increased investment.
"With automation we're trying to make the work easier for the staff that we have now. Automating wrapping systems, making it easier to stack pallets – all that sort of stuff helps," Codd says.
Last month, Codd Mushrooms announced that it had signed a €9 million deal with Aldi, which will see the company supply 13.3 million packs of mushrooms to the retailer over the next two years.
But Codd says that extra investment hasn't been earmarked for anything in particular yet and his main focus is on keeping the business going.
"We're going to invest more in technology and we may increase our production area as well," he says.
"The Aldi deal just gives us a bit of security for the next few years. Then we can see how things go with Brexit and what the demand is like in the future."
This article is part of our weekly series examining the nuts and bolts of businesses. If you would like to see your company featured please email news@fora.ie.
Get our NEW daily digest of the morning's most important headlines for innovative Irish businesses.