JP Morgan to buy a Dublin docklands office block that can accommodate 1,000 workers
The US bank currently employs 500 people in the Irish capital.
JP MORGAN IS set to buy 200 Capital Dock on Sir John Rogerson's Quay in the heart of Dublin's docklands.
The building due to be purchased by the US investment bank is part of a 345,000 sq ft office development that spans across 100, 200 and 300 Capital Dock.
The construction of 200 Capital Dock, an office building of around 130,000 sq ft that will be able to accommodate 1,000 workers, is expected to be completed in the third quarter of 2018.
The deal, which was agreed with property firm Kennedy Wilson in a joint venture with Fairfax Financial Holdings Limited and Nama, is thought to be part of JP Morgan's expected plans to create 500 new jobs in Dublin.
The US bank currently employs 500 people in the Irish capital.
JPMorgan's head of investor services James Kenny told the Financial Times that "growth plans are driving our real estate plan" and that Ireland has a "very flexible immigration policy".
"The binding constraint in Ireland isn't really around the supply of qualified people; it's around infrastructure — the infrastructure in the city, the supply of housing … the capacity in the school system, the domestic transport infrastructure."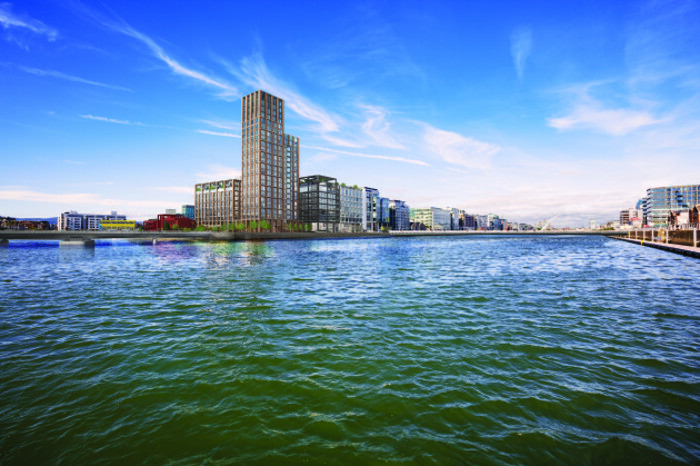 Source: JP Morgan
JP Morgan Irish senior country officer Carin Bryans said: "Dublin has the vibrant business and technology communities that suit a global firm like ours.
"Given the momentum of our local businesses, this new building gives us room to grow and some flexibility within the European Union."
In the aftermath of Britain's decision to leave the EU, JP Morgan made it known that it would use its existing European Union banks, one of which is based in Dublin, to house its European operations.
Since the Brexit vote, a number of locations have emerged as new potential homes for large investment banks looking to base their operations in countries with closer ties to the EU, such as Frankfurt and Luxembourg.
Earlier this month, the head of Frankfurt's efforts to tempt large financial firms away from the UK, Hubertus Vaeth, said he expected the five largest US investment banks to spread their staff across numerous bases post-Brexit and not just one location.
Minister of State for Financial Services Eoghan Murphy said that JPMorgan's decision to move more staff to Dublin was a "vote of confidence in the strength of Ireland's offering" and also highlighted "Dublin's status as a major financial centre".
Earlier this year it was reported that Barclays Bank was planning to set up a base in Dublin if Brexit negotiations failed to secure continuing passporting rights for British finance firms.
At the time, the bank moved to downplay suggestions that it would shift some of its activity away from the UK and said that its headquarters would stay in London.
Fit to cope
Ireland went on a charm offensive after the Brexit vote in the hope of tempting London-based financial institutions to move operations to the Irish capital.
It has been argued, however, that Ireland is not in a position to cope with the possible influx of jobs created by Britain's decision to leave the EU.
Paul McAuliffe, chairman of Dublin City Council's economic development and enterprise committee, warned that the city's "creaking" infrastructure made it unfit to cater for a corporate influx.
He cited a litany of shortcomings, such as a dearth of properties for sale or rent, patchy public transport that causes daily traffic gridlock to the existence of a single runway at Dublin Airport.
"One man remarked to me recently that if even 1% of London's economic activities migrated here, we would be absolutely crippled and I would have to agree with his assessment," McAuliffe said.
The IDA has played down the problems Dublin has and pointed out that the economy, which rebounded from years of austerity to post a staggering – if severely inflated – 26.3% growth last year, is in good health.
Reporting by Cliodhna Russell and Killian Woods.
Sign up to our newsletter to receive a regular digest of Fora's top articles delivered to your inbox.