Billionaire Dermot Desmond is among a group of backers to put $10m into careers site Jobbio
The Dublin outfit will open an office in Montreal, Canada.
DUBLIN-BASED CAREERS WEBSITE Jobbio has raised $10 million to further fuel its expansion in the UK and North America.
The young company, which operates in the Irish capital, London and New York, will open a sales and marketing office in Montreal.
Jobbio co-founder and chief executive Stephen Quinn told Fora that the outfit hopes to set up a space in Toronto too as it builds a presence in Canada.
He said the multimillion-dollar funding round announced today will help the firm roughly double its global workforce to just over 100 employees.
"A lot of those jobs will be based in our headquarters in Dublin," Quinn said.
Some $15 million has been put into the online recruitment platform over the last 12 months.
One notable backer involved in this series A funding round was IIU, the private equity vehicle of billionaire financier Dermot Desmond. Balderton Capital founder Barry Maloney also participated in the investment.
Maloney, who sits on Jobbio's board of directors, said the company has "achieved a huge amount in a very short space of time".
Source: Jobbio
Partnership deals
Jobbio was set up in 2014 by brothers Stephen and John Quinn. Jobseekers can use the website to set up profiles that showcase their skills and talents through a mixture of text, images, videos and links.
Some 6,000 companies use the service to promote career opportunities and workplace perks. A number of high-profile firms use the website, including Airbnb, Ryanair, Intel and Transferwise.
Jobbio has rolled out a number of strategic partnership deals with the likes of workspace provider WeWork, tech media giant IDG and LinkedIn.
Stephen Quinn said the company has about 15 more partnership deals in the pipeline, which will be announced by the end of the year.
"Some are as big as the one we've done with WeWork, which operates in 30 countries," he said.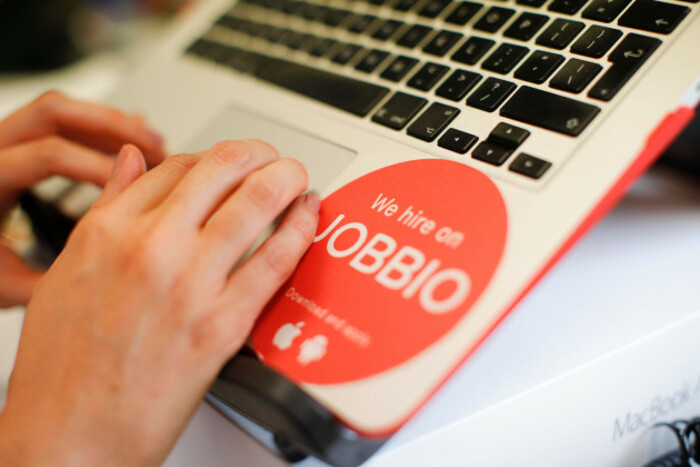 Source: Conor McCabe Photography Ltd
Quinn said Jobbio is also looking to expand its deal with the IDG group, which operates more than 460 technology websites around the world.
"We now power their entire jobs business in the UK. We're looking to passport that deal globally," he said.
When asked how Jobbio differentiates itself from other jobs websites, Quinn said: "I think there is loads of stuff that separates us. We've got a better technology stack and platform. We now have access to audiences that are exclusive.
"Companies are getting better applications because people know more about them before applying."
Quinn spoke to Fora earlier this week as part of our regular question-and-answer series, which unearths some lesser-known facts about notable people in Irish business.
Among the tidbits that cropped up, Quinn revealed his favourite job interview questions and talked about the time he climbed a crane using only one hand.
Sign up to our newsletter to receive a regular digest of Fora's top articles delivered to your inbox.