Intel has confirmed it will be cutting jobs in Ireland
The company is downsizing as it moves away from making hardware and towards cloud computing.
EMPLOYEES OF INTEL Ireland will find out next week if their jobs are in jeopardy as management confirms that its Irish operations will be impacted by a massive global jobs cull.
Intel announced restructuring activities last week which will see 12,000 positions axed across the world. Staff were notified today that the 11% reduction of its workforce will impact Ireland.
In an email from the general manager Eamonn Sinnott, seen by TheJournal.ie, employees were told they will be notified "within 72 hours of 4 May" if they will lose their jobs.
Described as a "separation program" by the company, it is still not clear how many people will be impacted. It is understood that those affected will be told on Tuesday evening, 3 May.
Over the next two months, decisions will also be made about what projects will be cancelled. They have also been advised that short-term professional counselling services will be provided to staff and their dependents.
Sinnott acknowledged in the staff memo that the restructuring activities "will be a difficult process" and that the team should "be mindful and take care of each other".
The note, however, also states that the Kildare, Shannon and Cork facilities remain "critical to the future growth of the company".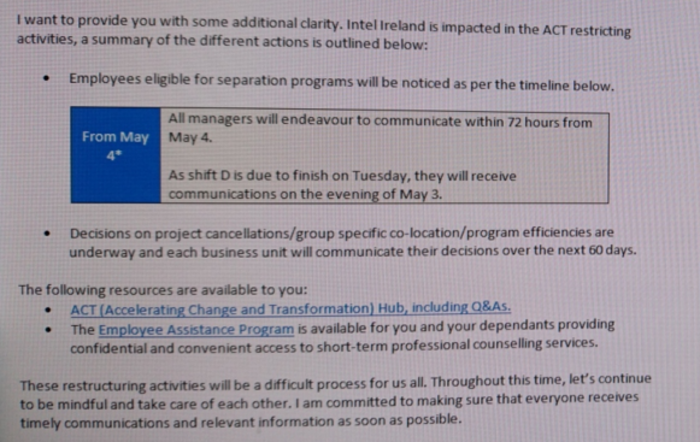 Source: TheJournal.ie
The job cuts announced earlier this month will be both voluntary and involuntary.
Intel's plans include moving away from selling computer chips for PCs and focusing on other segments of its business like cloud-based services.
Sinnott today described the shift as an "evolution from a PC company to one that powers the cloud and billions of smart, connected computing devices".
Written by Sinead O'Carroll and posted on TheJournal.ie