Irish Water is easily the country's least reputable brand
The unloved semi-state ranks below Eir and the banks when it comes to trust.
AS POLITICAL PARTIES wrangle over its very existence, Irish Water has collected another ignominious honour – retaining its slot as the country's least-respected company.
The latest corporate Reptrak study from The Reputation Agency revealed there was daylight between the unloved semi-state and other brands for bottom place on the list.
Irish Water has delayed publishing the percentage of payments it has received from the public for the most recent quarter while politicians debate the quango's future.
It finished below several long-standing Irish institutions, including the rebranded Eir – which dropped three places on the list to record the second-lowest reputation score despite its €16 million image overhaul.
Pillar banks AIB and Bank of Ireland also propped up the list, while McDonald's, the FAI and bookies Ladbrokes and Paddy Power all ranked poorly.
At the other end of the spectrum, Bord Bia toppled Google as the organisation with the best reputation in the country. The US tech giant previously held top slot despite its high-profile battles with the EU and ongoing tax-dodging allegations.
Several Irish organisations featured prominently, with Easons and An Post rounding out the top three.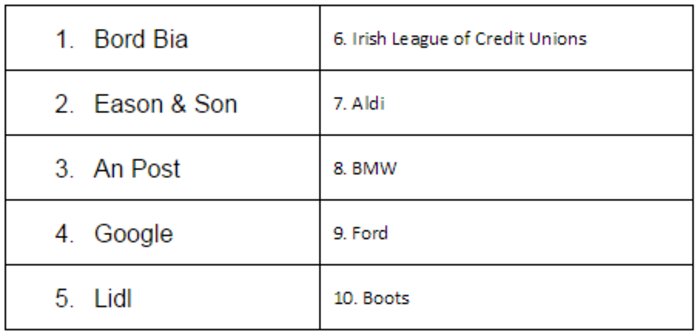 The list is compiled based on a survey of more than 5,000 people who rate companies according to four 'emotional indicators', such as the 'good feeling' they engendered, and seven 'rational' factors like innovation and leadership.
[embed id="embed_2"]
For the love of food
Bord Bia chairman Aidan Cotter said his organisation's good reputation was "inextricably linked" to the hard work of farmers and food producers across the country.
Overall, the food and manufacturing sector was the most trusted industry, followed by the retail and general classification.
The automotive industry had the fourth-highest average reputation even after Volkswagen plunged from 5th to 59th on the back of last year's emissions scandal.
The financial and banking sector remained the least trusted, followed by the telecommunications industry.
Reputations Agency managing director Niamh Boyle said a good brand reputation also drove business results as it helped to win customers and attract the right people.
read more on