More money was put into female-led startups - but 'disappointing' details are hidden in the stats
TechIreland's 2018 figures have led to a renewed push for more female investors at the table.
LAST YEAR SAW an increase in the amount of money invested in female-led startups but the minutiae reveals a number of "disappointing" lingering issues.
That's according to Niamh Bushnell, founder of not-for-profit group TechIreland, which ran a campaign last year to encourage €100 million to be invested by venture capital firms and angel investors into startups with female founders or leaders.
The final figure came in just below the mark at €97.7 million, which was invested in 47 companies. The organisation tracked €930 million worth of deals last year in total.
"I'm not fixated on the numbers. What I'm interested more in is the composition of that €97.7 million and that's a disappointing story for a couple of reasons," Bushnell said.
While the figure is up overall, the nuances tell a different story, she explained.
Of the money raised in 2018, female-led companies accounted for 10.5% opposed to 13.5% in 2017. The number of female-led companies that secured funding in 2018 dropped to 47 from 67 the year prior.
"The absolute number went up from €84 million to €97.7 million but the number of companies went down by 20 companies, which is huge," Bushnell said.
Female-led companies were more likely to pursue money from international backers and grants, such as those from an EU programme, compared to male-led companies.
"Women looking for funding are having a harder time securing that funding from VCs in Ireland and are going after VC opportunities outside of Ireland and are being successful relatively speaking."
Biotech firm Nuritas secured a €30 million financing deal from the European Investment Bank last year, while on the other end of the scale, Cork internet of things startup ApisProtect raised a €1.5 million seed round from mostly US investors.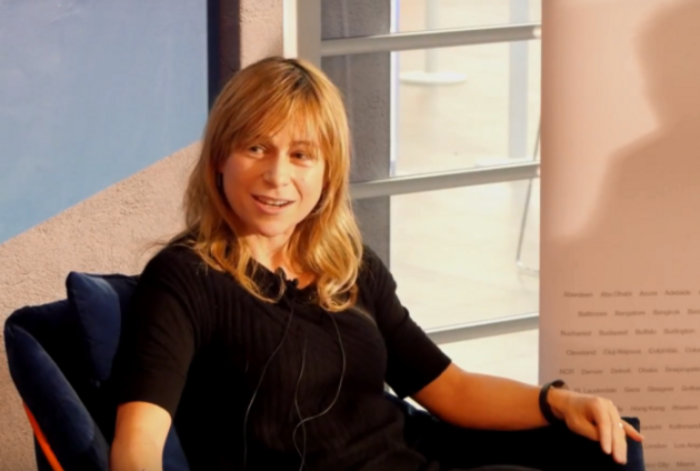 Source:
YouTube
/Startup Grind Local
"Indicatively it's telling me that Irish female founders are looking certainly at grants, certainly at Europe and VCs outside of the country at an earlier stage."
Unconscious bias
Bushnell said that the solution doesn't lie simply in mentorship and asking for more money but also a "top-down approach" where there are more female investors at the table.
"It's really (about) adding more females investing, more females being part of the decision-making on investment committees when it comes to public and private funding," she said.
These biases can manifest themselves during a startup pitch.
"You may still have unconscious bias when it comes to funding females because you may be concerned about their ambition, maybe concerned about distractions on the home front, you may have other unconscious biases."
She said that these training programmes are necessary because the presumptions made about female entrepreneurs are disproved when they actually get the investment.
"They take it further, they're as ambitious as male founders, they have companies that are just as deep tech or market oriented, the mix is all there," Bushnell said.
"When investors take a step back, through training or other kinds of education, they can see the stats prove it out," she added.
"(They can see) that the success of female founders and female-led companies is as good and as bad, that numbers are as strong and as weak as male-founded companies.
"All of those biases or all of those narratives are disproved."
Get our NEW Daily Briefing with the morning's most important headlines for innovative Irish businesses.