Cans were once considered 'cheap'. Now craft beer makers are mad for them
The number of Irish microbreweries opting for cans has nearly doubled in the last two years.
ALTHOUGH BOTTLES ARE still the champions of craft beer packaging, the number of producers choosing to can their brew is on the rise.
According to a market report from the Independent Craft Brewers of Ireland (ICBI) and Bord Bia, only a quarter of microbreweries produced canned beers in 2016, but that figure has nearly doubled two years later, reaching 45%.
One of the biggest beneficiaries of the canning boom is Mullingar-based packaging startup BevCraft.
Founded in 2016 by Ciarán Gorman and Darren Fenton, the business provides over 150,000 cans each month to more than 50 microbreweries across the country.
"Before we started there were two craft breweries in Ireland canning beer, so it's been a massive change in just a couple of years," Gorman tells Fora.
There are various reasons why a brewer would favour cans over a bottle, he says.
For example, cans tend to have a longer shelf life and the seal is "more secure and less prone to breakage" compared to a bottle.
"Cans travel better than bottles and also 70% more cans fit on a pallet. So if you're an Irish craft brewery trying to export internationally it's much more cost effective to ship cans," he says.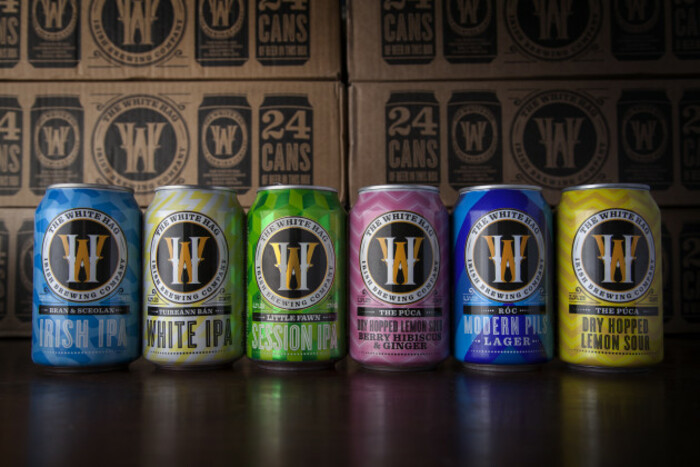 Source: The White Hag
After experimenting with different formats, Sligo's White Hag brewery made the switch to canning its core products three years ago due to the longer shelf life and ease of transport, according to managing director Paul Mullin.
Now, the brewery only bottles its special or seasonal drinks as a way to differentiate them from the main lineup.
"We were early adopters because we saw that canned beer is more consistent from a quality perspective," Mullin tells Fora. 
"Cans are also lighter and more robust, which helps with exports. We had incidents in the past where we've sent bottles abroad and they were smashed when they arrived."
The brewery currently uses BevCraft's mobile canning services to package its beers, which Mullin says is "slightly more expensive" than bottling in-house but worth the extra cost.
Premium perception
The Irish craft beer industry has grown rapidly in recent years, from around 60 microbreweries in 2015 to over 100 as of last year.
The total turnover of craft beer producers in 2017 was estimated to be €44.3 million – up 10% compared to the previous year.
Although cans are becoming more prevalent in the industry, with breweries such as YellowBelly and Metalman introducing their own canning lines and exclusively using cans for their non-kegged produce, the format still lags behind bottles.
According to the ICBI report, some 83% of microbreweries choose to package their product in bottles, compared to just under half using cans.
Gorman says that when craft beer started taking off, there was a perception that premium products should have glass bottles, which is why so many craft breweries invested in bottling lines.
"I think traditionally there was a view that cans were a cheap product, sold by larger companies at a certain price point. We're starting to turn that on its head now but everything doesn't change overnight," he says.
"Like any new changes, you don't want to jump in with both feet on day one and invest in something that may or may not be the future.
"That's why a lot of breweries are using contract canning to test the format before they take the big decision to get rid of the bottling line and go fully into cans."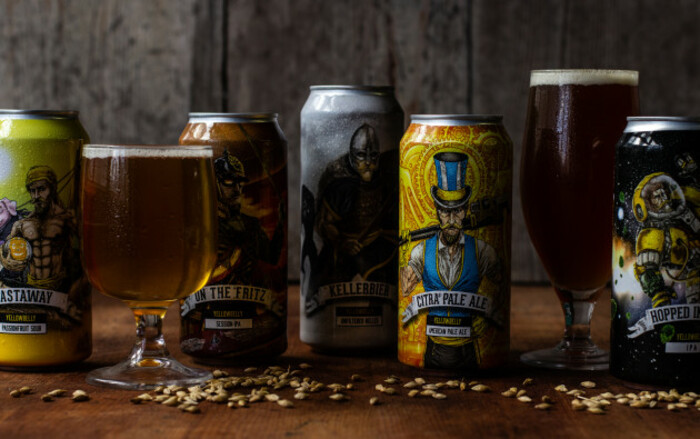 Source: YellowBelly Beer
Mullin agrees that trends are changing but that there is still a perception that canned beer is lower quality, especially when it comes to supplying pubs and restaurants.
"We have restaurants that previously stocked our beers but now only take our specials because they're in bottles. I guess they feel that cans have a negative connotation and don't provide the same drinking experience," he says, noting that cans also aren't as popular in certain export markets like France and Russia.
However, Mullin says that he expects demand for canned craft beer to rise as consumers look for more variety and retailers begin to see the benefits of stocking different formats. 
"The trend started in the US – they were very ahead of the curve – but now we're seeing it more in Ireland and the UK. There's a lot of bonuses from a retail perspective because a shop can fit nearly twice as many cans on a shelf," he says.
"The situation has already shifted a lot. Bottles are starting to move off the shelves and cans are now driving innovation in the craft beer sector."
Get our NEW Daily Briefing with the morning's most important headlines for innovative Irish businesses.