Revealed: The Irish counties that will suffer most from a 'hard Brexit'
It's not just the border regions that are likely to bear the brunt.
KERRY WILL JOIN the Irish border counties in bearing the worst of the economic fallout should the UK wind up with a 'hard Brexit' scenario.
Based on the census figures for 2016, business group Ibec has drawn up a list of the counties that have a high proportion of workers in industries most likely to be affected by the UK's vote to leave the EU.
Ibec said that a number of sectors in Ireland, including agriculture, food and beverages, accommodation and tourism services, air and freight transport, and manufacturing, are exposed in the case of a hard Brexit, a scenario that would involve the UK leaving both the common market and the customs union.
Many of these industries have already begun to feel the strain from the devaluation in sterling after the EU exit vote.
Ibec said that counties near the Northern Irish border, including Cavan, Monaghan and Longford, have the highest levels of exposure, while Kerry is also heavily dependent on industries likely to be impacted by the fallout from the Brexit vote.
The counties with the highest proportion of their workforce in Brexit-affected industries are:
Cavan (28%)
Monaghan (27%)
Kerry (22%)
Longford (21%)
According to figures from Census 2016, roughly 243,000 Irish workers, who account for just over a tenth of the employed population, work in sectors likely to be affected by Brexit.
Rural areas are expected to bear a disproportionate burden of the fallout, while Dublin will be best insulated from Brexit-related trade declines.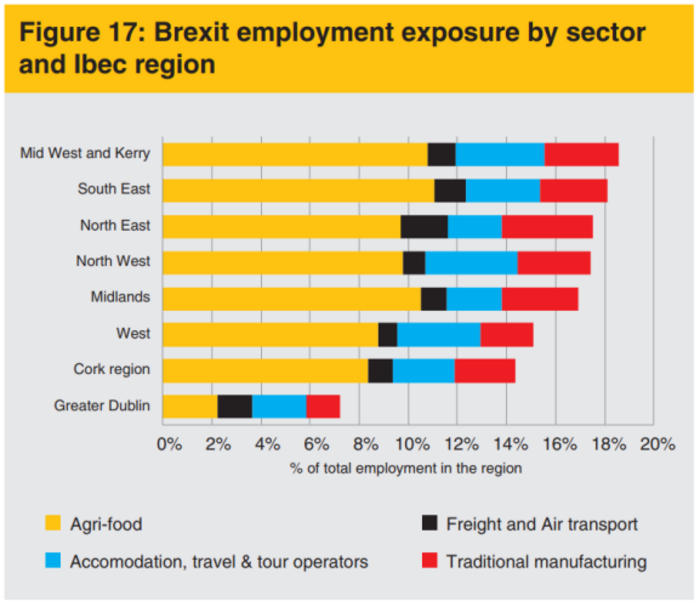 Source: Ibec
Ibec also said Cork and Galway cities were two of the least-exposed areas to Brexit, as well as the counties surrounding Dublin, such as Louth, Meath, Kildare and Wicklow.
Cork has the highest numbers of jobs in the 'Brexit-exposed' sectors, with 28,000 workers across the industries, however this figure still represents less than 14.5% of employment in the county.
Brexit slowdown
Recent figures have shown that UK visitors to Irish shores are in decline with the weaker pound, although booming transatlantic traffic has still pushed overall tourist numbers higher.
In total, British residents took around 1.44 million trips to the Republic between January and May of this year – down about 7% on the same five-month period in 2016.
Meanwhile, a joint report from InterTradeIreland and the ESRI recently outlined the ramifications a hard Brexit could have on the agriculture and drinks industry.
It said the worst-case scenario could result in exports of food and beverage manufacturing to the UK plummeting by 45% to €2.1 billion annually.
Ireland's total food and beverage manufacturing turnover is €27 billion, with some €4.6 billion coming from exports to the UK.
Sign up to our newsletter to receive a regular digest of Fora's top articles delivered to your inbox.
read more on