Irish employers are taking on staff like it's 2007 as rate of hiring increases to pre-crash levels
Businesses in the restaurant and hotel industries are desperate to hire staff in the final quarter of 2016.
THE RATE OF hiring by Irish businesses has reached pre-crash levels, with many employers keen to take on staff before the end of the year.
The latest Manpower Employment Outlook Survey, which monitors the likelihood of businesses to increase or decrease their workforce during each quarter, has shown that Irish employers are reporting the strongest labour market forecast since 2007.
Net employment outlook among Irish employers has risen to 12%, an increase of three percentage points since the last quarter. This is also a seven percentage point improvement on this time last year.
Of the 620 businesses surveyed across 11 sectors, the restaurant and hotel sector and electricity, gas and water industry had the highest net employment outlook at 22%. However, hotels and restaurants had the largest year-on-year growth in employment outlook – up 26 percentage points since last year.
Three other sectors also showed double-digit net employment outlook figures, including wholesale and retail (15%), public and social (14%) and pharmaceuticals (11%). The construction, manufacturing, agriculture and transport sectors all saw single digit increases in hiring intentions.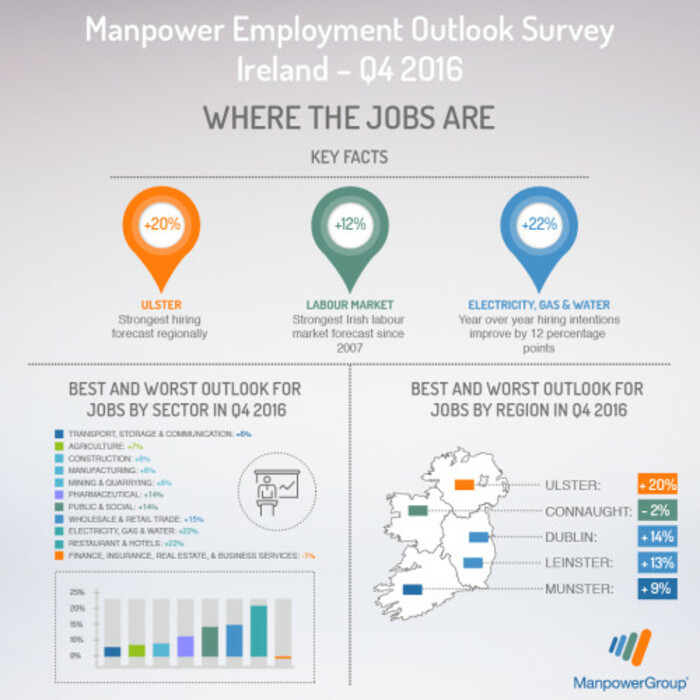 Source: Manpower Employment Outlook Survey
Click here for a larger version
Unlike the other 10 sectors surveyed, the finance and business industry in Ireland showed a decrease in employment outlook (-1%), which is also a drop of 11 percentage points on this time last year.
However, last week a report from consultancy firm Morgan McKinley highlighted that there was a significant surge in jobs in the Irish financial services sector last month.
[embed id="embed_2"]
Provincial outlook
The survey also broke down the hiring intentions of Irish employers across each Irish province, with Connacht lagging behind the other three regions.
For the second quarter in a row, the rate of hiring the west of Ireland decreased by 2%, a drop of nearly 9 percentage points since the same time frame in 2015.
However, hiring intentions across all other provinces increased between the third and fourth quarters of this year, with businesses in Ulster registering the strongest employment outlook at (20%) – followed by Leinster (13%) and Munster (9%).