The government is worried that if the tech bubble pops our economy could go too
But it remains upbeat on the country's financial prospects in its latest update for the EU.
IRELAND'S DEPENDENCE ON a small number of high-tech sectors to drive the economy is leaving it at risk if those industries tank, the government has said.
In a stability programme update to be sent to the EU, the Department of Finance painted a bullish overall picture for the country's prospects – however it also identified "numerous sources of uncertainty" that could act as headwinds.
During the short-term, it flagged problems in developing economies such as China and the potential spill-over effects of any further slowdowns as having the scope to push global economies into a recession.
The UK's upcoming referendum on leaving the EU was also raised as a concern and the department noted Ireland was "potentially more exposed than most in the event of a UK exit".
Among the risks identified as having the potential to impact heavily on the Irish economy was the country's "concentrated industrial base".
The update said this was "highly concentrated in small numbers of high-tech sectors" which meant any company- or sector-specific shocks could have a disproportionate impact on Ireland.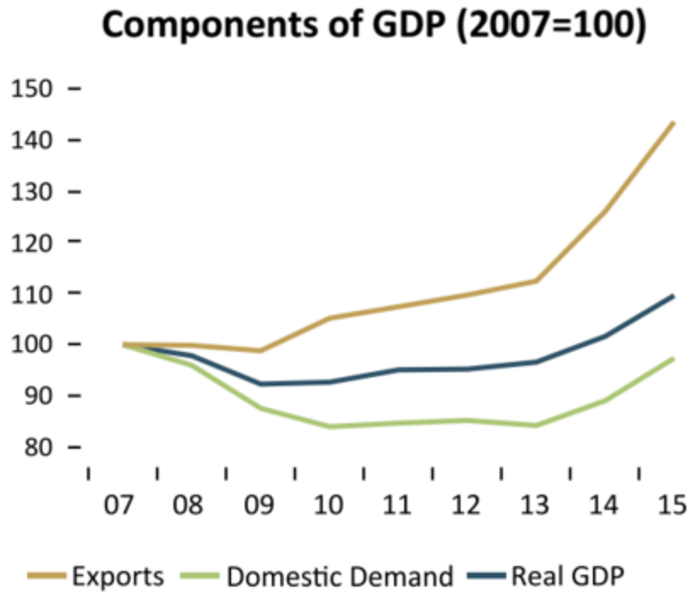 Source: Department of Finance
Other dangers identified included:
A loss of competitiveness, a particular problem for the country's small, open and export-driven economy

Housing supply pressures, which could in turn impact competitiveness by restricting labour movement

Currency developments, such as those already playing out with the decline in sterling ahead of the UK's referendum
Nevertheless, the government's forecasts remain upbeat overall. It predicted 4.9% GDP growth this year and 3.9% in 2017, while total employment in the country was forecast to top 2 million this year with the public finances swinging into surplus in 2018.
read more on