Ireland's €8bn investment fund is going to ramp up its spending
The ISIF, which will sink €750 million into Irish companies in 2016, is looking to commit even more.
IRELAND'S SOVEREIGN WEALTH fund is likely to ramp up its commitments in medium-sized companies as it speeds up investment over the next four years.
The Irish Strategic Investment Fund (ISIF) yesterday revealed it expects to pledge over €750 million to Irish companies and funds during 2016, which would bring its total commitments to almost €3 billion.
Speaking at an event for investors and potential funding targets, ISIF director Eugene O'Callaghan said that the organisation is aiming to have its €7.9 billion fund fully committed by 2020.
"(We are at) €750 million a year now, we need to ramp that up somewhat as we get more established," he said.
"We would be operating on the basis that we would have the fund deployed over that period, which will mean that we will have to do more than €750 million in subsequent years."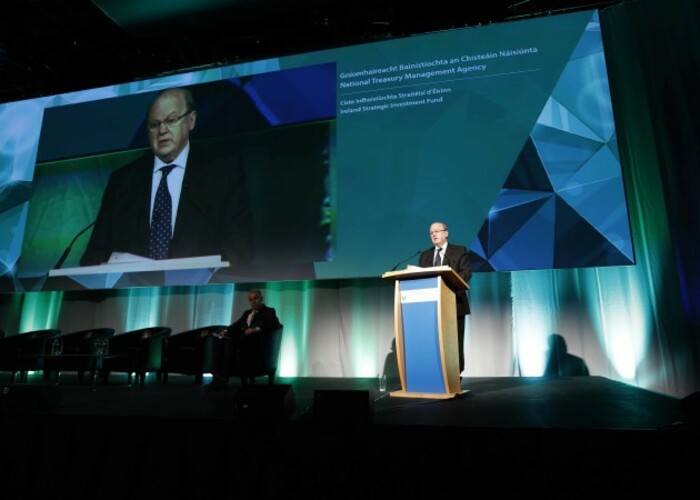 Source: RollingNews.ie
The ISIF was established with remaining funds from the National Pension Reserve Fund (NPRF), after the bulk of the NPRF's €20 billion in assets were used during the crash to help the state keep afloat. It is managed and controlled by the National Treasury Management Agency.
Last year the fund committed €759 million to a variety of Irish projects and companies. However, almost half of this amount was made up by the €325 million it pledged to Irish housing fund Activate Capital, its single-biggest investment to date.
Opportunities
O'Callaghan said it is likely the bulk of the investments will be in the mid-sized range, worth around €40 million on average, while it will probably also make one or two large-scale commitments of more than €100 million per year.
As the ISIF expects to have about €3 billion committed by the end of 2016, if it is to have its total fund allocated by the end of the decade it will have to commit over €1 billion a year between 2017 and 2020.
Food and agriculture, technology and real estate were all singled out by O'Callaghan as sectors that are likely to produce "significant" investment opportunities.
The ISIF said it is in "advanced discussions" relating to 53 "opportunities" with a combined value of €2.4 billion.
The fund has already invested in several promising Irish companies that look likely to scale. It took part in a $30 million funding round for Dublin mobile marketing company Swrve and helped Limerick-based waste management firm AMCS raise €45 million last year.
read more on