These figures show how Irish-founded Intercom has outpaced the Silicon Valley elite
The company has gone from $1m to $50m in recurring revenue within three years.
INTERCOM'S GROWTH HAS outpaced most of the world's most hyped software startups – belying its low-key status among the Silicon Valley elite.
Based out of San Francisco, the customer service software company was set up in 2011 by Irishmen Eoghan McCabe, Des Traynor, Ciaran Lee and David Barrett and has enjoyed a relatively quiet rise over the past several years.
Unlike a lot of startups, there's no high-profile founder or major media presence. According to CEO McCabe, the traditional word-of-mouth sales approach has done the trick in luring new customers.
But figures revealed in a new blog post show the extent of the firm's rapid-fire growth, with Intercom hitting $50 million in annual recurring revenue (ARR) within roughly three years.
To put the figure in context, the company reached this milestone faster than other high-profile SaaS (software as a service) companies, including online communication firm Twilio, cloud e-commerce company Shopify and Zendesk – although not as fast as workplace communications tool Slack.
McCabe also highlighted that the company had only $1 million in (ARR) roughly three years ago and that it is "trending aggressively" towards being a profitable business.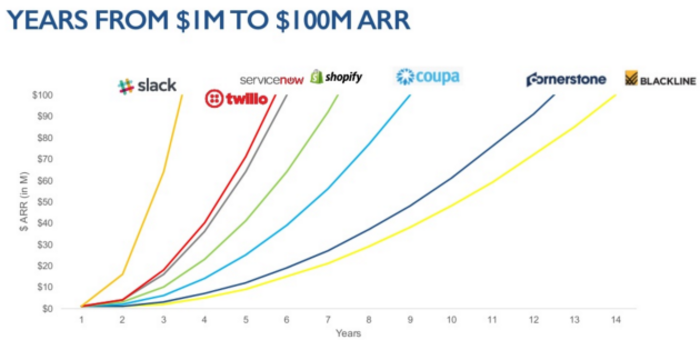 Source: Bessemer Venture Partners
With the firm having raised $116 million in funding to date, Intercom is also thought to be zeroing in on unicorn status – a startup term for a company valued at $1 billion or more.
However, investor Dave McClure said last year that he thought Intercom is closer to a $500 million valuation.
Six years
Since the company was set up six years ago, it has developed four customer service products and has raised funding in each of the last four calendar years.
Some notable investors, such as Slack founder Stewart Butterfield, were part of a $50 million investment it secured last year.
Part of that funding was earmarked for doubling the firm's headcount, including an extra 100 staff for its Dublin office – where much of the development work is carried out.
At the end of 2016 Intercom launched a new offering called Educate, a public help center product, which is now making $1.5 million ARR and is used by nearly 650 companies.
McCabe said the company has plans to upgrade each of its products and that there is "a long list of improvements" that need to be made to Resolve – an online helpdesk tool.
He also used the blog post to demonstrate the growth in user numbers over the past few years.
The company now has over 17,000 companies paying to use software and two of its most recent customers are Microsoft and Irish payments system Stripe.
He added that there are now 100,000 monthly active users of the products in companies paying for the service and its products have handled over 400 million customer requests to date.
read more on