Despite stiff competition, coffee chain Insomnia has plans to double in size
The company's CEO says there is still room for growth both in Ireland and abroad.
THE INSOMNIA COFFEE chain may be facing stiff competition from international rivals and independent operators – but the company has no plans to slow down its expansion.
The firm's CEO, Harry O'Kelly, told Fora that the company's goal was to double in size over the next five years – although he admitted this was "a tall order".
As part of this plan, he said that the coffee chain is aiming to open 17 new company-owned stores in Ireland this year in addition to a similar number of franchised operations.
Its next three cafés will be in all be located in Dublin, with new outlets opening on Gardiner Street, Macken Street and in Park West.
Looking further afield, O'Kelly said that Insomnia will continue to expand in the UK, where it currently has around 20 stores.
The company's first Scottish outlet is set to open in Glasgow before the end of the summer, while its first café in Belfast city will be opening later this year as part of plans to develop the business in Northern Ireland.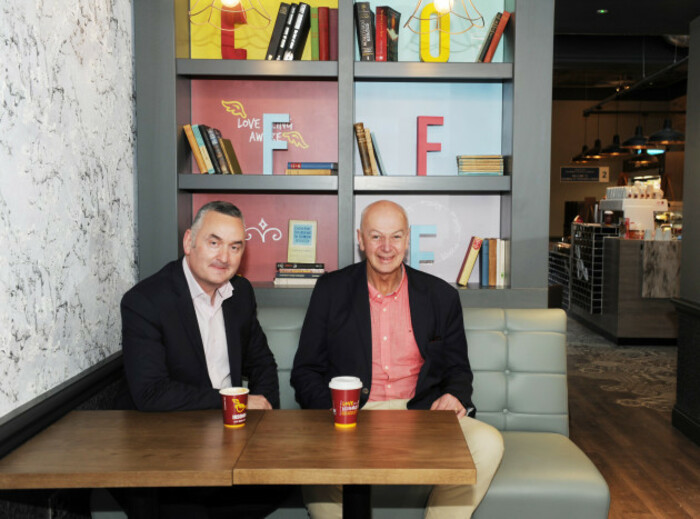 Source: Aidan Crawley
O'Kelly also said that Insomnia is looking to grow the business in "a number of international territories" in the long-term.
Last year, the company revealed plans to open its first German outlet by the end of 2017, however O'Kelly said that this expansion has been delayed.
"We're still working on that with our partners in Germany, but the reality is that it will be pushed out a bit because they're still making their minds up in terms of the strategy they want to follow," he said.
"But we are looking at a number of international opportunities at the moment."
O'Kelly added that the coffee market has "changed dramatically" since he's been in the business, but the market hasn't reached a saturation point yet.
"I've been with Insomnia for 21 years and every year I hear the same thing – saturation," he said.
"But I think the demand is there. Coffee shops have become the new social setting – now when you meet someone you go and get a coffee."
Competition
Insomnia was founded by O'Kelly and Bobby Kerr in 1997. O'Kelly has been CEO since 2010, while Kerr stepped away from the company at the end of last year.
The latest accounts for the Insomnia group's companies show combined profits of over €2 million, despite continued losses at its UK business.
With more than 150 outlets in the Republic of Ireland, Insomnia is the largest coffee chain in the country, followed by Costa and Starbucks.
O'Kelly said that while there is "plenty of room for everybody" in the coffee market, he views these international brands as Insomnia's direct competition.
He said that the company competes with these players in terms of price, offering and environmental efforts – such as its new compostable cups.
Although a number of Irish brands, including Bewley's and Frank and Honest, have already introduced similar coffee cups, Insomnia's CEO pointed out that it is the first of the country's major coffee chains to make the switch to the more environmentally friendly containers.
"I think it's probably the single biggest item that comes up in feedback from customers, so we've taken it upon ourselves to roll out a cup that is 100% compostable and biodegradable," O'Kelly said.
"I'm so pleased that a relatively small Irish company can put it up to the international chains. These are global brands, but we're leading the way."
Sign up to our newsletter to receive a regular digest of Fora's top articles delivered to your inbox.