INM has struck a deal for the controversial closure of its pension schemes
The newspaper group will put over €50m into the retirement funds between now and 2023.
IRELAND'S LARGEST NEWSPAPER group has agreed to pump millions into workers' pension pots in a bid to end a row over its decision to stop contributing to the schemes.
Independent News and Media (INM) and the trustees of its two defined benefit pension schemes said they have reached an agreement over the closure of the retirement funds.
As part of the deal, the Irish Independent publisher will put more than €50 million into the two schemes between now and 2023, when they will finally be wound up.
It said it will make additional payments to ensure pension pots are not lower than they were in 2013, when the schemes were restructured, and to make a "special provision" for members who are closer to the retirement age of 62.
A letter will be sent to each member of the coming days detailing their entitlements. Information meetings will also be held with INM staff and a helpline has been set up.
Acting general secretary of the National Union of Journalists (NUJ) Séamus Dooley said in a statement: "While the union remains opposed to the closure of the schemes by a solvent and profitable company the decision to continue pension contributions until 2023 is a positive development."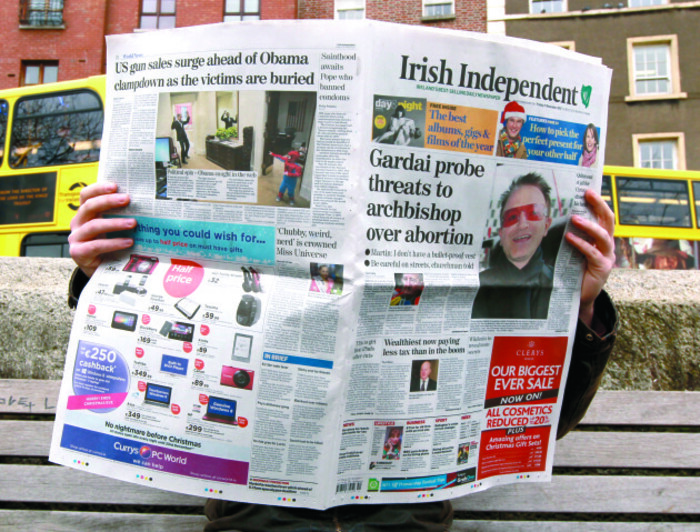 Source: Sam Boal/Photocall Ireland
The news comes the same week the company issued a profit warning, blaming Brexit, falling newspaper readership and a spate of boardroom spats for its troubles.
INM is one of Ireland's biggest media companies and owns several Irish national newspapers including the Irish Independent, Sunday Independent, the Herald and the Sunday World.
Billionaire businessman Denis O'Brien is the company's largest shareholder, with a 29.9% stake.
Protests
In December 2016, INM found itself on the wrong side of the news when it announced it would stop paying into its defined benefit pension schemes.
This would have resulted in a roughly 70% reduction to the pensions for former staff, many of whom are yet to reach retirement age.
Last year, about 100 former and current staff, members of the National Union of Journalists and other supporters protested outside INM's extraordinary general meeting that sought shareholder approval for the move.
The controversy led to an intervention by the then minister for social protection Leo Varadkar, who approached the attorney general to see if he could ask the court for a similar deal as done with Aer Lingus, where the company negotiated with trustees before going ahead with its sale to IAG.
As previously explained by Fora, the INM pension controversy highlighted the fact that there is no legislation in Ireland to protect pensioners when profitable companies decide to stop paying into their pension funds.
Sign up to our newsletter to receive a regular digest of Fora's top articles delivered to your inbox.
read more on