Your crash course in… How INM walking away from pensioners sheds light on a bigger problem
Defined benefit pension schemes are a ticking time bomb.
THE BOARD AT Ireland's largest newspaper group has found itself on the wrong side of the news lately.
On Monday, Independent News and Media (INM) held an uncomfortable extraordinary general meeting (EGM) at Dublin's O'Callaghan Alexander Hotel to seek shareholder approval for a reduction of share capital, which would lead to the company's first dividend payments since the financial crash.
Outside, about 100 former and current Irish Independent workers, along with trade unionists and other supporters, gathered to protest INM's decision to stop paying into a defined benefit pension scheme, which would result in roughly a 70% reduction to the pensions for former staff, many of whom are yet to reach retirement age.
Inside, things were just as turbulent. The group's chief executive Robert Pitt and chairman Leslie Buckley had an unusually public boardroom row the week before, reportedly over the purchase price of Newstalk, the Denis O'Brien-owned radio station. O'Brien is also the largest single shareholder in INM.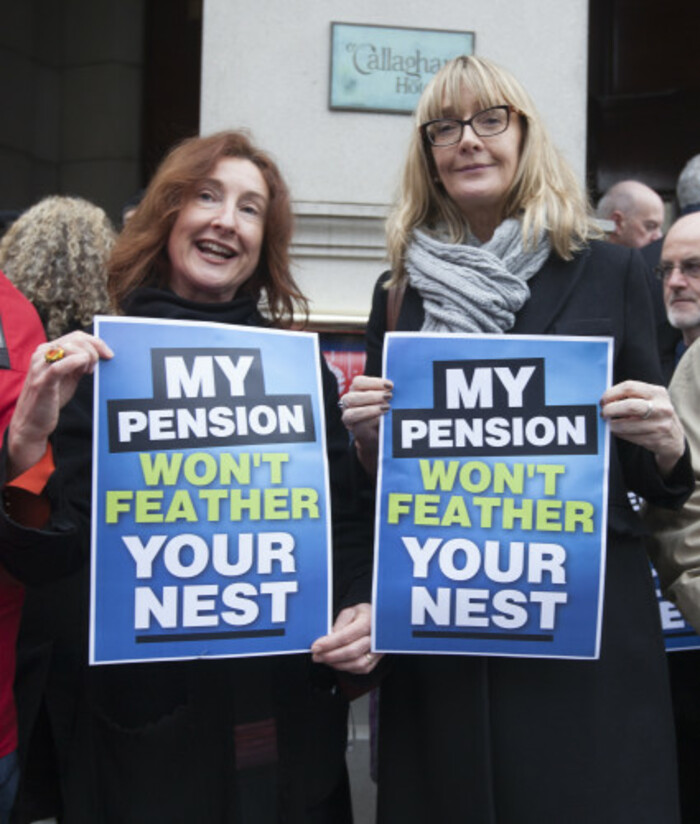 Source: Eamonn Farrell
Buckley tried in vain to avoid the pensions problem during the EGM, but the issue was understandably hard to ignore, especially for shareholder-pensioners like ex-business reporter Martin Fitzpatrick.
According to a report in the Irish Independent, Fitzpatrick called the decision to pull out of the pension scheme as "one of the most shameful decisions" he had ever come across in his 50-year career.
The whole story has shone a light on a growing problem in Ireland – defined benefit pension schemes, like the one at INM, are grossly underfunded.
This week, we're looking at how they could be a ticking time bomb about to explode.
Collapse
Defined benefit pension schemes promise a set level of pension at retirement, normally based on your service or earnings near the end of your career.
The benefits, or payouts, are fixed, so the contributions have to be adjusted from time to time to make sure the correct amount is being gathered before payment.
However, it's important to note that such benefits are not guaranteed. If the scheme's assets are not sufficient to pay the benefits, and the employer can't meet the shortfall, promised benefits can be reduced.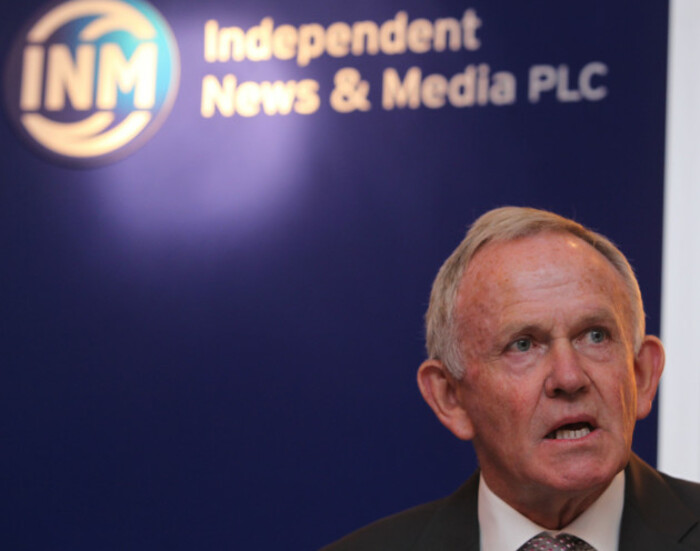 Source: Sam Boal/Photocall Ireland
However this is not the first time the board at INM has looked to slice its pensions scheme – and that's partly the reason why the workers are so outraged.
In 2013, the group received approval from the Pensions Authority to substantially reduce members' accumulated sums. It led to about a 40% reduction to their pension pots at the time.
One former Independent journalist wrote in a Facebook post that the workers accepted this "as a necessary measure as the company was on the verge of collapse".
'Cash rich'
Nevertheless, the financial situation for INM today is very different. In the 2015 financial year, the company generated a pre-tax profit of over €37.4 million after the first up-tick in revenue for years.
After selling its remaining stake in Australia's APN News and Media in 2015, the company was also left with a significant cash pile – even after paying off its debts. That money was earmarked for acquisitions.
First it bought business magazine group Greer Publications. Then it snapped up a 50% stake in Cars Ireland, a classifieds website for cars.
A few months ago, it announced it was buying Celtic Media Group, which publishes six regional newspapers in Ireland. If approved, that will bring the number of INM-owned local papers to 20.
And yet INM is still expected to be sitting on €86 million by the end of this year. A Newstalk acquisition would have put that money to work.
Investors will be keen to create value from that cash – especially after Davy analysts warned that the management's ability to do so will "determine the future trajectory of the group".
Ex-Independent journalists argue that they are being fed to the wolves by the "cash rich" company so it can free up this money pile and pay out dividends to shareholders like O'Brien, already one of Ireland's richest few people.
Pensions time bomb
The INM problem has highlighted a worrying underlying issue in Ireland – other troubled defined pension schemes could be wound up too, with little warning.
INM's retirement obligations grew by more than €20 million in six months to €106.8 million by 30 June 2016. This was largely due to low interest rates and a struggle to meet standards set out by the Pensions Act.
Recent research by consultancy firm LCP Ireland found that the combined deficit in defined benefit schemes at Ireland's biggest private and public sector companies surged by more than 160% in the first nine months of the year, despite a number of cuts to benefits and a reduction in contributions.
The combined shortfall more than doubled to almost €7 billion by November of this year. These growing debts put pressure on companies' balance sheets and impact their ability to pay out to shareholders.
Members of such schemes could stand to lose out on pension promises if companies struggle to fund them and come under pressure from investors.
Different to the UK
The INM situation has also highlighted the fact that there is no legislation in Ireland to protect pensioners when profitable companies decide to stop paying into their pension funds.
In the UK, for example, it's not possible for solvent companies to simply walk away from their pensions obligations.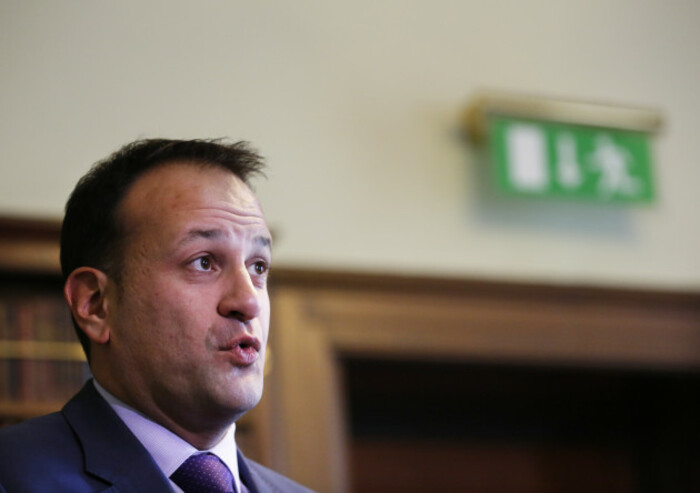 Source: RollingNews.ie
The Sunday Times recently wrote that the Trinity Mirror newspaper group in the UK is in a similar situation as INM, however it didn't have the option of simply wrapping up its scheme because "pension funding rules in the UK are far more stringent that in the Republic of Ireland".
National Union of Journalists' Irish secretary Seamus Dooley called on the Minister for Communications Denis Naughten to consider the pensions controversy when deciding whether to give the all-clear in INM's acquisition of Celtic Media.
Meanwhile, INM's restructuring of its balance sheet will go before the High Court, where the separate pensions issue could rear its head as well.
Minister for Social Protection Leo Varadkar has said he approached the attorney general to see if he can intervene and ask the court to strike a similar deal as was done with Aer Lingus, where the company negotiated with trustees before going ahead with its sale to IAG.
The outcome of how INM handles its pensions problem could set the stage for other funds in difficulty.
read more on