'I'd rather work in the middle of the night than get up early - I'm not pretty in the morning'
Fingal Ferguson of Gubbeen Farmhouse Products also talks about the joys of cleaning mucky pigpens.
NOW A FIFTH-GENERATION business, the family farm behind Gubbeen Farmhouse Products is probably best-known for its eponymous cheeses and chorizo.
Based in Schull, County Cork, a team of 25 currently works on the farm, including company director Fingal Ferguson, whose parents built the cheese-making side of the business in the 1970s while he established a retail offshoot that sells handmade knives.
As part of our weekly question-and-answer series, we spoke to Ferguson about why he'd rather clean out a mucky pen than face a mountain of paperwork and how he learned about the importance of consistency in the food industry.
Here's what he had to say:
On average, what time do you start work in the morning and what time do you clock off?
About 7am or 7.30am, but that's because I have young kids. The farm work starts at about 5.30am.
I'm not pretty in the morning. Given a choice, I'd rather work more in the middle of the night than get up early. I look after the kids in the morning, and then I go to work after the school run.
The food side of things would probably stop about 5.30pm. But there'd be stuff happening here until quite late. I never really clock off.
What's the worst job/task you've ever had to do?
Based on a farm, there are things that probably shouldn't be written down. Farming has things that will always be challenging, like cleaning out mucky pens. I think it's just stuff that has to be done.
I would sooner take on a physical task than be told I have five days of paperwork to do. I'd sooner take on the job that somebody else would hate than sit down to five days of crunching numbers.
What was your earliest or childhood ambition?
I grew up on the farm and saw the cheese production start at a time when farmhouse cheeses were taking off.
I fell in love with the food world and fermentation. I think I definitely developed an ambition towards making salamis and cured meats.
What advice would you give to your teenage self?
I would tell myself to listen more to others. I always asked for advice from people but rarely listened to it.
I would have always tried to take on lots of different things. I'd ask lots of questions, but I rarely listened to good advice.
What do you eat for breakfast?
Lots of coffee. I make everybody else breakfast and forget to eat myself, then eat lots at 11am.
This time of year, with wintry cold weather, I'd have to make a very quick scrambled eggs on toast with something like sriracha on top. It's a real filler. I'm not really a breakfast person, though I do eat constantly.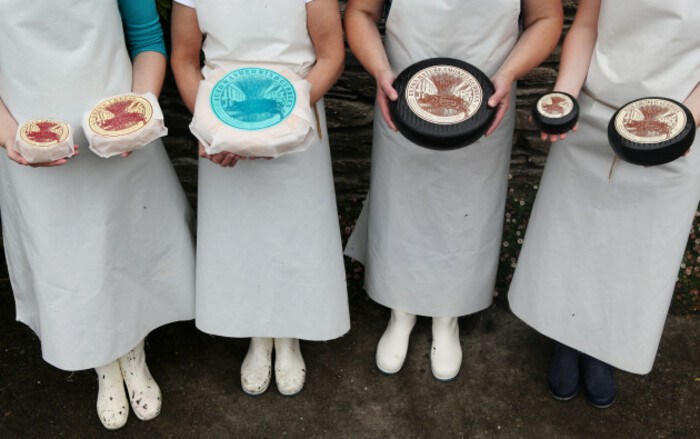 Source: Fingal Ferguson
Would you encourage your children to work in your industry?
Yes. I think that I'll never tell my children they have to work here, just like I wasn't told myself. But because there are so many different sides to it, I think there's something for anybody, from the food production to the farm.
I think they can make it what they want. I think things are adaptable. I wouldn't discourage it, but they have to choose it themselves.
What's the biggest problem you've had to deal with in your business so far and how did you overcome it?
Learning about consistency. With cheeses, salamis and cured meats, to be consistent is very important for restaurants and shops. You can't make something varied.
The food itself is not the easiest thing in the world to make, otherwise everyone would do it. Learning about consistency and making a product as good possible that is still an artisan food is a challenge. That just takes years of practice.
When you're considering partnering with another person or business, what factors are deal-breakers for you?
Honesty. I avoid people who lie or say something and don't mean it – that kind of thing. We largely do things ourselves here, but we work with other farmers, distributors and wholesalers. Honesty is probably the most important part of the whole process.
What's the best piece of advice you've received and who was it from?
I was once thinking about expanding and growing the business, and a friend looked at me and said, "More is more."
More means you'll be able to make more product, but you'll have more pressure, more hassle, more stress, you'll need more money, you'll need more staff.
Get our NEW Daily Briefing with the morning's most important headlines for innovative Irish businesses.