Golden Discs' boss insists the vinyl revival is 'far from a fad'
Stephen Fitzgerald says the retailer hopes to open three new stores in 2018.
WHILE YOUNG MUSIC fans and older diehards have led to a bump in vinyl sales at Golden Discs, the company's chief executive is convinced the format's revival is "far from a fad".
Speaking to Fora, Stephen Fitzgerald says that while online services like Spotify and iTunes are clearly more convenient for consumers, there's a real demand for physical music.
"Streaming isn't a replacement for physical," he says. "They're not mutually exclusive behaviours."
While older audiences are looking to relive their youth with reissued albums, young consumers – some of whom may have never encountered physical music before - are drawn to album packaging and that warm vinyl 'sound'.
"For vinyl, I think it's about tangibility, about owning the physical products rather than something that's in a cloud," Fitzgerald says.
While the format has enjoyed an enormous boost in recent years, some pundits have predicted that global vinyl sales – tipped to hit the billion-dollar mark by year-end – will soon start to plateau.
But Fitzgerald remains hopeful. Golden Discs' vinyl sales doubled in the 18 months to the end of December 2016 and they're expected to grow again this year, although at a slower rate.
New stores
Fitzgerald says demand for traditional records was a "contributing factor" in Golden Discs' decision to open three new outlets this month, bringing the total number of shops to 16 – although that remains far off its peak of around 50 stores.
A new Wexford store launched last week, while a Tallaght branch opened its doors today alongside a pop-up on Dublin's Henry Street.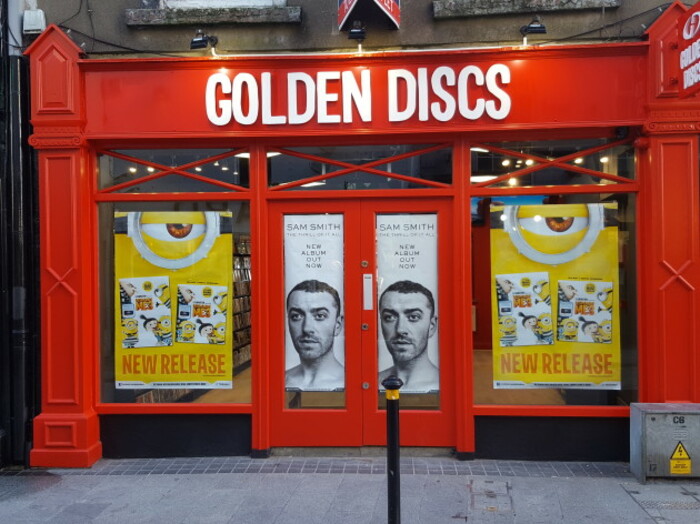 Source: Golden Discs
The city-centre location will operate on a temporary basis to cover the busy Christmas period, after which the company will review whether or not to keep it open year-round.
Fitzgerald says this strategy of initially launching pop-up stores helps Golden Discs road test new branches without having to sign lengthy leases.
The company will open up to three more temporary shops next year. It also hopes to extend a partnership with Tesco. Last year, Golden Discs signed a deal to roll out concession branches in more than half of the supermarket's Irish locations.
"That has been quite a steep learning curve, but it's performing well," Fitzgerald says.
In 2018, Golden Discs also hopes to find a home for its first Vinyl Lounge in Dublin.
The concept – a dedicated vinyl store that features a café, photography exhibition space and music venue – was launched last year on the first floor of Golden Discs' flagship store on Cork's Patrick Street.
Like other high-street chains, Golden Discs has looked to weather the disruption caused by online shopping by turning to 'experiential retail'.
Independent record stores like Rough Trade in London have pioneered the concept of repurposing shops as venues in an effort to increase 'dwell time' and boost sales.
"Our space is slightly more low-key," Fitzgerald says. "It's very casual, it's very relaxed. We have sofas and Wi-Fi. There's always people hanging around there."
He said the pilot Vinyl Lounge has been well-received by customers, staff and bands that have performed in the music space.
"I think all-round, it's very positive and it's bringing excitement back into the music store, which has perhaps been lacking in recent years."
Online store
As well as overhauling its brick-and-mortar offering, Golden Discs is also hoping to boost online sales.
Fitzgerald admits that the retailer has been fairly late to the "online party" – it only opened its web store in September – but he is still optimistic the firm can make a decent buck from it.
When asked how Golden Discs plans to compete with other online music retailers and the likes of Amazon, Fitzgerald says the company is banking on its 50-year legacy.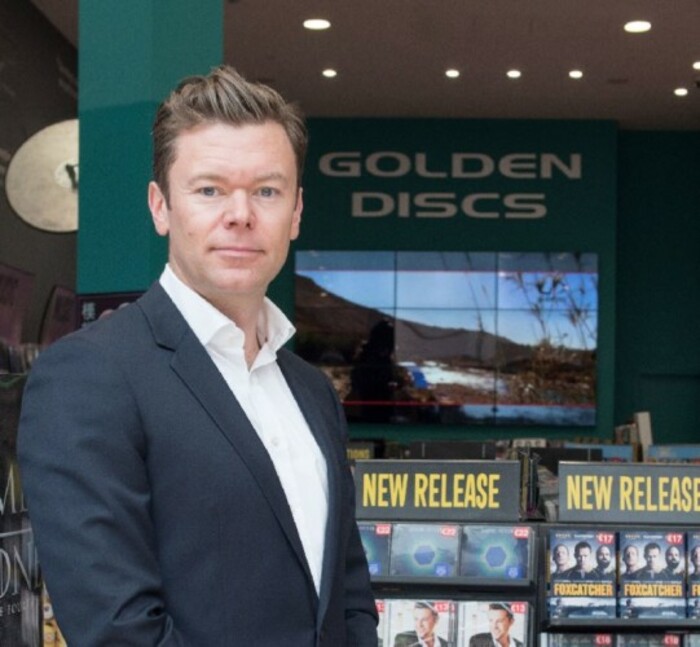 Source: Golden Discs
"We're obviously an extremely well-known Irish brand. I think there's a lot of brand loyalty and there's obviously comfort in trading with a brand that people know and people trust."
He adds that the web store is able to offer next-day delivery and a gift-wrapping service, which it expects to drive traffic during the Christmas period. Last year, Golden Discs returned to the black, reporting a profit of €173,000 and a turnover of €18 million.
As well as enjoying a boost in physical music sales, Golden Discs became the only major CD and DVD retailer after HMV closed the last of its Irish stores to become an online-only operation.
When asked about his thoughts on the death of Golden Disc's biggest rival, Fitzgerald says that it was a shame to see so many jobs lost.
However, he adds: "HMV were a very formidable competitor, but I'd be lying if I said we miss them."
Sign up to our newsletter to receive a regular digest of Fora's top articles delivered to your inbox. 
read more on