After years of downsizing, Golden Discs has changed its tune with three new stores
The retailer has been making the most of vinyl's renaissance.
ENTERTAINMENT RETAIL CHAIN Golden Discs is opening three new outlets after previously going through a dramatic downsizing with the decline of CD and DVD sales.
Earlier this month, the firm opened a store on Main Street in Wexford town. On 18 November, it will launch two new shops in Dublin: in Tallaght's Square shopping centre and on Henry Street in the city centre.
That will bring the total number of Golden Discs outlets to 16 in addition to the 80 concession stores it runs at Tesco supermarkets around the country.
Some 50 people will be employed at the three new outlets. Golden Discs currently has more than 100 people on its books. The Dublin outlets are currently being fitted and stocked so they can open this Saturday.
At its peak, Golden Discs – which has traded since 1962 – operated more than 50 standalone outlets, but its business was badly hurt by the rise of music and video downloads, streaming services and the recession.
According to the company's chief executive, Stephen Fitzpatrick, demand for old-fashioned vinyl has prompted it to start opening the new stores.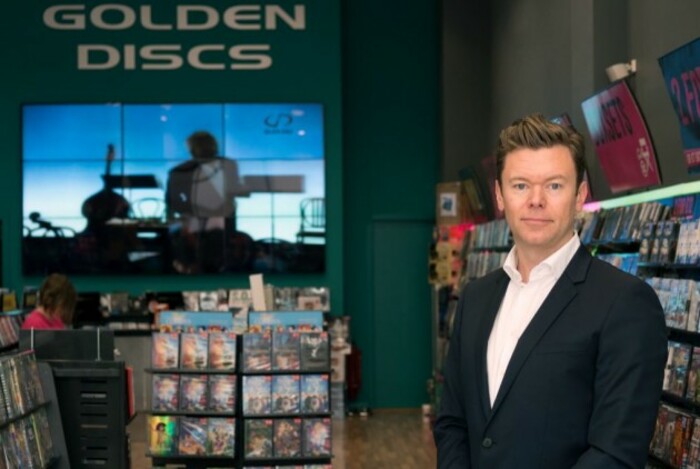 Source: Golden Discs
The retailer's traditional record sales more than doubled last year, which helped push the firm back in the black to the tune of €173,000 for the 18 months to the end of 31 December. During the period, it booked sales of more than €18 million.
"Demand for music continues to grow," Fitzpatrick said. "The vinyl renaissance shows no signs of abating, and we are refocusing our efforts to grow the category by offering customers a more extensive range of catalogue, re-issues and new release both in-store and online."
Online store
As previously reported by Fora, Golden Discs launched The Vinyl Lounge – a vinyl shop, café, exhibition space and music venue – in its flagship store on Patrick Street in Cork.
The company plans to open a similar proposition in one of its Dublin branches, though it's not clear where or when a lounge will open in the capital.
In addition to opening new outlets, Golden Discs recently rolled out a web store, which sells its main stock of CDs, vinyl records, DVDs and Blu-ray discs.
Over the coming weeks, the online shop will soon start selling other items like games and accessories such as headphones.
Sign up to our newsletter to receive a regular digest of Fora's top articles delivered to your inbox.
read more on