One type of brew is bucking the trend of a shrinking global beer market
A new analysis has predicted that the world will drink about 2.2 billion litres of stout by 2020.
THE GLOBAL THIRST for beer may be in decline, but the world's demand for stout is proving harder to quench.
Market research firm Euromonitor International has predicted that drinkers around the globe will down about 2.2 billion litres of stout by 2020.
That's just under a third more than what was consumed in 2015, when the world drank about 1.6 billion litres of dark beer – a figure already up from 1.5 billion five years prior.
Growth has largely been driven by the Chinese market, where appetites for stout have rapidly increased in recent years.
"In 2015, global beer volume growth turned negative for the first time in over a decade," Euromonitor researcher Anna Ward said.
"However, stout's performance has been positive since 2014, following years of marginal growth. The category's progress in China was the major reason for this improvement."
Stout consumption in China shot up from 9.7 million litres in 2010 to 130 million litres in 2015. That figures is tipped to peak at 566 million by 2020, which would make it the largest stout market in the world in terms of volume.
Right now, the US claims that position. American drinkers consumed just over 173 million litres of Guinness, Murphy's and other brands in 2010. By 2015, that figure rose to 245 million and is set to increase again to 315 million litres by 2020.
Ward said that stout is "abundant in the US craft beer market".
"Although craft beers are predominantly ales, seasonal beers found in the winter are often stouts or porters, which are helping to make the US the largest stout market globally," she said.
Ireland
In terms of per-head consumption, Ireland remains at the top of the league by a large margin, even though stout drinking is in decline here.
In 2015, each household on the island drank about 28 litres of stout. That's down from 36 litres five years prior. That will dip again by 2020 to 26.5 litres, based on the forecasts.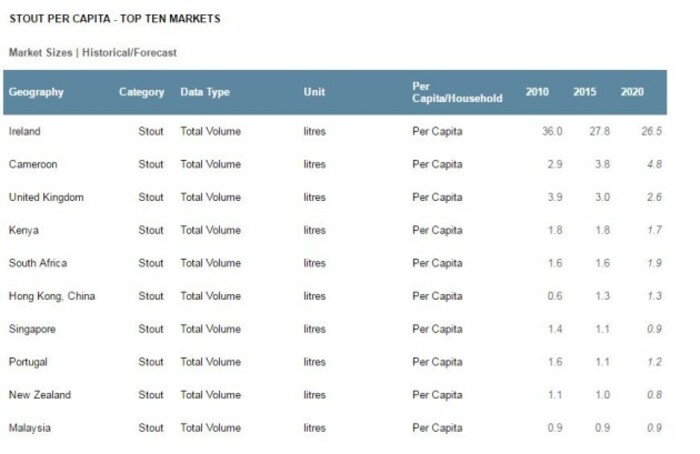 Click here to view a larger version.
Unsurprisingly, Guinness is the best performing brand in the world. That said, its market share has slipped from just under 58% of all stout sales in 2010 to 50.5% in 2015.
In a report published last year, the Irish Brewers Association (IBA) found that overall beer consumption in Ireland was 79.9 litres per capita in 2015. That's 2% down on 12 months prior.
IBA chief Jonathan McDade told Fora at the time that this drop was caused by a variety of issues including lifestyle changes.
"Overall, it's a reflection of people's changing habits when it comes to alcohol in general," he said.
"Consumption of all alcohol, including beer, is actually down about 25% since 2001. It wouldn't be a major concern at this point – the industry is more focused on export value."
The same report found that Ireland exported €265 million worth of beer in 2015, a 16% rise compared to the same 12-month period in 2014.
Production was up for the first time since 2011 with manufacturers producing 775 million litres of beer in 2015, an increase of 6%.