'Be patient; it's going to take a hell of a lot longer than you would anticipate'
Gerry Scullion, founder of King of Kefir, talks radishes and getting lost down rabbit holes.
WHEN HE WAS made redundant from his engineering job in 2012, Gerry Scullion decided to take a chance on his home brewing hobby – and ended up starting King of Kefir. 
It might be an ancient drink, but Kefir is one of the newer trends to hit the health foods market in recent years.
The fermented drink can be dairy, plant milk or water based – Scullion makes his using water and the plant-based sweetener stevia, instead of sugar, as he spotted a gap in the market for non-sugary and non-alcoholic beverages. 
The company was started up in 2017 and employs four people. It recently started a pilot in healthy fast-food chain Leon's new Temple Bar outlet and is also available in 150 outlets nationwide including Supervalu in Leinster, Avoca and a number of independent retailers. 
As part of our weekly question and answer series, we talked to Scullion about radishes, time off and creative vision. 
Here's what he had to say: 
What was your earliest or childhood ambition?
In my dad's garden in the back in Monaghan, I think I was 10,  and we were growing a load of vegetables.
One of them was radishes, we had an abundance of them. I put a sign down the bottom of the road saying I had radishes for sale. I've always had an interest in how businesses work.
What's the one piece of advice you would give an entrepreneur who is starting out?
Be patient; it's going to take a hell of a lot longer than you would anticipate. Even if you are adding on 30% to 50% onto your timeline, it can still take even longer so don't be disappointed.
Write out your one-year, three-year and ten-year plan for what you want out of your own life, not just your business goals. That will be what spearheads your business plan. 
Do you keep working when you've left the office?
Yes, I leave the office quite late. I've had a crazy couple of months – I might have had one day off in two or three months.
I'm trying to scale up at the moment – but I'm cheerful enough, I'm not burning the midnight oil. Obviously there's pressure and stress – but it's an exciting time and that, in itself, is energising. 
What's the one work skill you wish you had?
I need to strengthen up on management accounts side, the headline numbers and projections. 
What was a big turning point in your life?
I was made redundant in July 2012. The business that I was working for at the time was struggling, but for the year previous to that I had an ambition to make a beverage, a craft drink – a beer in particular.
I was making a lot of product at home myself. When I was made redundant, I decided to explore the market further and saw an opportunity for non-alcoholic beverages that are good for your health – not sugary and not going to challenge your body in a negative way.  
What ambitions do you still have?
I want to develop a number of other brands and products that are related to what I'm doing.
Where I'm at (currently), it's moving from pilot project to commercial viability, and volume – so I want to accelerate that now by scaling up over the next 18 months. 
Who have you learned the most from in your career/life?
The community that works with me here in the Chocolate Factory (in Dublin). Working with a diverse range of other businesses and other creative (people) has really opened up my vision on what I'm doing.
When I look back, I was running on the same hamster wheel over the last 15 years in the engineering field. It's a certain style of thinking or certain process in the industry that you would find to solve problems.
Once I stepped out of that and came here, I really had my mind blown by the creative vision of a lot of people.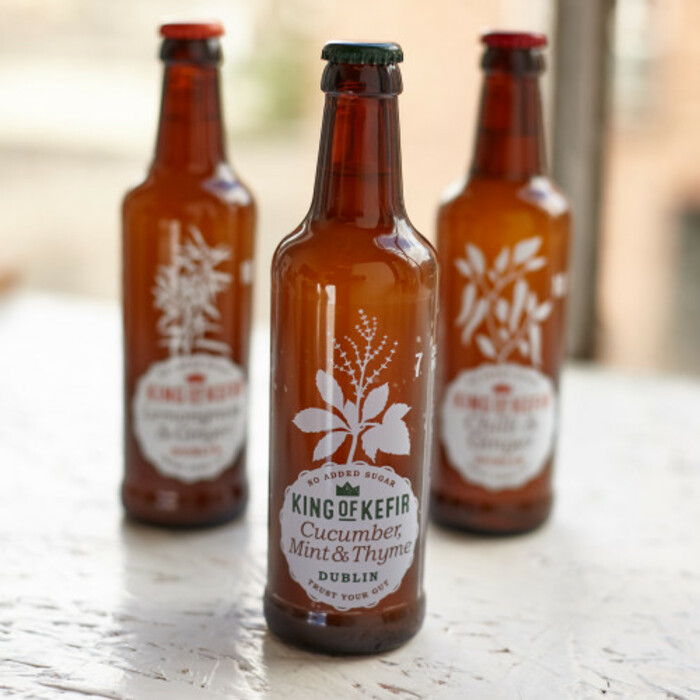 Source: Gerry Scullion
What is the greatest achievement of your life so far?
Probably creating this brand. Going out on my own, doing something from scratch – I started with nothing. It's still a small business, but the potential is there and it's starting to speak for itself. 
[embed id="embed_3"]
What's your main motivator?
The massive damage, that is only coming to light now, that sugar does – that industry and the health implications of it. 
What bad work habit have you had to kick?
Getting lost down the rabbit hole when I'm trying to find a solution for something and losing track of time.
If I can't think of a solution in 20 minutes or half an hour for something, I let it sit and I will come back to it and figure out how to make it work. It might take a couple of days or weeks but you do get the answers. 
What's the biggest problem you've had to deal with in your business so far and how did you overcome it?
Cashflow is a huge one in the beginning. Funding and building my own microbrewery with very little money has been a huge challenge. 
Get our Daily Briefing with the morning's most important headlines for innovative Irish businesses.